How to Start a Dog Walking Business in Canada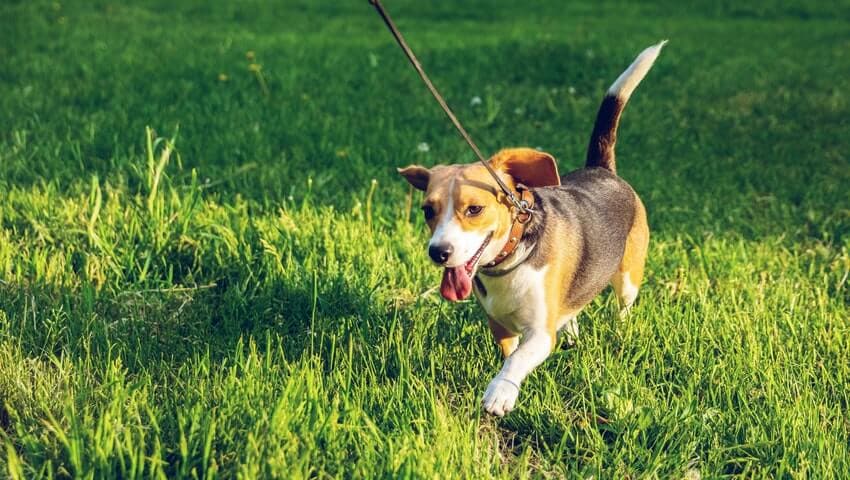 With high demand and low start-up cost, starting a dog walking business is a great way for animal lovers to make some extra cash and meet some new best friends.
There's a reason dogs have earned the nickname of being our best friends. Their loyalty, enthusiasm, and general lovability have kept them by our sides for eons.
But especially in large cities, many pet owners have busy schedules that prevent them from spending enough time with their furry friends.
That's where dog walking companies come in. Getting into this potentially lucrative service is a great business idea for those that love getting exercise, hanging out with dogs and controlling their own schedules.
If this sounds like an ideal way to make some money and meet a few four-legged companions, read on for our tips on how to start a dog walking business in Canada.
---
Need Insurance for Your Small Business?
---
Starting Your Dog Walking Business in 4 Easy Steps
1. Structure and Name Your Business
It's important to name your business something catchy and memorable so that it sticks with your potential clientele. Many dog walking services choose catchy, punny names to set a lighthearted and playful tone with their customers right off the bat.
How you structure your business is another important aspect to figure out before you start spreading the word about your new venture.
Many dog walking businesses choose to register themselves as an unincorporated entity such as an LLC (limited liability company).
However, every small business is unique. It's often a good idea to talk through your options with a trusted advisor for the best advice tailored to your particular scenario.
2. Research the Market You're Entering
Before you start marketing your new business, you'll want to do some research to find out what other companies you're competing against. This can help you as you formulate a business plan to stand out above the competition.
Every city will have a different market, so taking a look at what other dog walking companies charge can help you figure out appropriate fees.
There are multiple ways to price your company to dog owners, from hourly rates to monthly or weekly subscription services. Make sure to do your research to find out which is best for your company.
3. Start Promoting Yourself
Now that you're a business owner with a licensed company with knowledge of how to stand out amongst your competitors, it's time to get the word out about your pet sitting business!
Here are a few ideas to get you started on how to promote yourself:
Test Out Your Services on Friends and Family

Having your puppy-owning friends and family try out your services is a great way to get some honest feedback — and five-star reviews on Google for a newly started business can be priceless.

Never Underestimate the Power of Social Media

Creating dedicated social media accounts is vital to starting any successful business. Not only does it get the word out about your venture, but you can also engage with your customers and gauge how they're interacting with your brand.

Try Some Real World Word-of-Mouth TacticsWhile social media is changing the way we advertise, there's nothing like interacting with your potential clientele in the real world. Consider getting some ad space on bus stops, billboards, or other places in high traffic areas.
4. Make Sure Your Company Is Insured
Insurance is an important part to starting any business, as the low monthly premiums you pay can end up saving your company in the event of a lawsuit, even if you're not at fault.
Even though you're doing your best, accidents can happen. If a dog gets lost or injured under your watch, the owner can come after you for serious damages.
Insurance for dog walking companies is typically made up of two different types of insurance:
This necessary type of insurance protects you in the event of any damages or injury against your clients, whether that be a lost or injured dog or theft.

Professional Liability Insurance

This type of coverage helps pay for legal fees should an unhappy client feel it's necessary to take you to court for alleged damages.
Just like with any business, your policy may differ depending on certain factors, such as where you're located and the services you offer.
Talk to the experts at APOLLO Insurance to make sure your coverage is right for your business. Get your free quote within minutes and have your new insurance policy emailed directly to your inbox!
---
APOLLO Has You Covered
Get the protection you need in minutes with custom Business Insurance from APOLLO.
---
Limited time offer: Get comprehensive Tenant Insurance starting at just $11/month
Get no-nonsense coverage that's the best value for your money. Purchase in less than a minute, receive your policy instantly, and save when you buy online.
Get a free quote
4.6 rating

Limited time offer: Get comprehensive Tenant Insurance starting at just $11/month
Get no-nonsense coverage that's the best value for your money. Purchase in less than a minute, receive your policy instantly, and save when you buy online.
Get a free quote
4.6 rating

Getting insured is as easy as 1 - 2 - 3
1
Tell us (very little) about yourself
Just tell us your address, your name, email and phone number. And that's it. We'll give you a price in less than a minute.
2
Pay online easily and securely
You can choose to pay monthly or save money by paying for the entire year in one easy payment.
3
Get your documents in your inbox - instantly
As soon as you complete your purchase, you'll find your proof of insurance and policy documents waiting for you in your inbox.
Get covered today - it couldn't be easier
We've provided more than 1,000,000 quotes to Canadians just like you. Give it a try!

Reviews
4.6 rating
1,313 reviews
view all