6 Steps to Starting a Small Business Online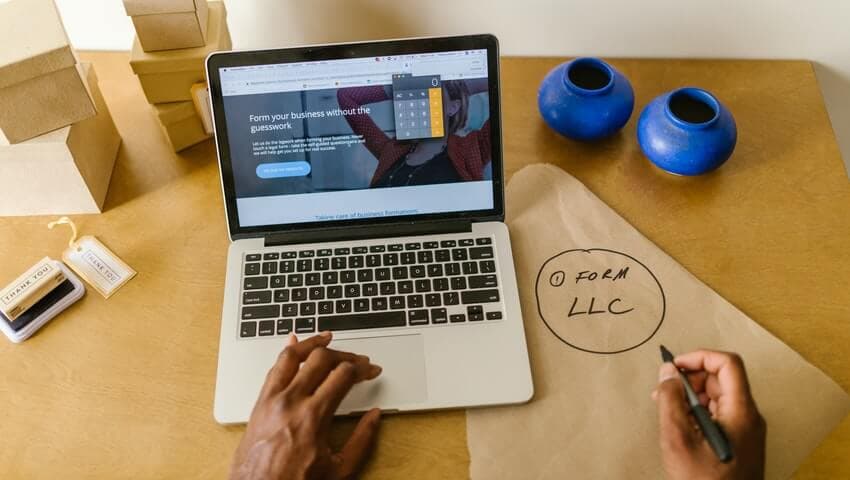 Starting a small business is hard. Here are six steps to help make it easier.
The internet has made starting an online business more accessible and affordable than ever. But how to start your digital venture is the crucial question! Often, the "how" is bespoke to the type of online business you want to start.
There are numerous ways to make money on the internet. You could create an online store, sell a remote service, or run ads on your blog. Each medium has its own rewards and challenges.
This article explains general tips on how to start an online company, regardless of your business model. We go through six crucial steps to getting your new digital venture up and running.
---
Need Insurance for Your Small Business?
---
How to Start Your Online Business in 6 Steps
1. Select a Business Model
A business model is how your company plans to profit. Some online models include:
Online Store: Selling real-life objects through an online store includes anything you see on Amazon, Etsy, eBay, etc. Online stores can be complicated because you have to account for inventory, shipping, manufacturing, etc. Where will you store all your products? Dropshipping has made the process simpler.

Dropshipping: Instead of creating, buying, and selling their own products, dropshippers can sell items from another third party without storing them in their own warehouse. At Spark Shipping, you can optimize your dropshipping process by ensuring that everything from order fulfillment to shipments are automated. With that task taken care of, you can focus on marketing your brand and eCommerce store

Digital Download: You can also sell digital products online — you might offer an e-book or template that customers can download for a price. The benefit of selling digital products is the profit margin. Typically, after you make your digital product, you can sell as much as you want without much additional cost.

Services: You can provide services like graphic design, digital marketing, or writing remotely. You can find clients, work with them, and receive payment from the comfort of your home. Service businesses, however, are hard to scale — you're selling your time, and you only have so many hours in a day.

Blog or Influencer: Blogs and online influencers make money by promoting other businesses on their social media or website. You effectively sell ad space like a newspaper or magazine. Some companies may pay you a flat fee for a single post or go with an affiliate marketing model, where you receive a commission for each sale you drive.
You should only choose a business model after significant research. Find a need to fulfil or something that suits your interests, skills, and preference.
For example, if you want to build passive income, selling a digital download could be your best bet. You can create your product once and wait for sales to roll in.
Other times, you might have a passion for something like travel and decide to start a blog. Hotels, travel companies, and travel-related product businesses may want to sponsor a post with you if your blog generates enough traffic for them.
2. Do Market Research
Market research is key to any business. It lets you understand what you're getting yourself into. Sometimes, an idea sounds good until you look into it. You might then realize that potential margins are razor-thin or that the industry is saturated.
The internet has many valuable sources for market research. You can view online forums to look for common problems people face or perform keyword research to see what individuals are looking for on Google. This can help you find an underserved need — ripe for your new business.
3. Understand Applicable Laws
Many entrepreneurs get caught up with their great idea and forget about their legal obligations. Your corporate structure, tax obligations, and specific regulatory needs are three areas to consider.
Corporate Structure
One of the first decisions any entrepreneur must make, digital or brick-and-mortar, is what business structure to use. Generally, you should speak with your accountant or lawyer first. They can consider the elements in your company and see which one of the following best apply:
Sole Proprietorship: Best for those just starting, sole proprietorships are run by only you and don't create a division between you and your business. As a result, your business' liabilities or contractual obligations are also your personal liabilities and obligations. You also file any business profits on your personal tax returns. The benefit of a sole proprietorship is its simplicity — often, you don't need to register anything to start.

Partnership: A partnership is like a sole proprietorship, except it involves you and one or more other persons. You and your co-founder become partners, and there is no distinction between you and your business. You and your partner share anything owned by the partnership. The same applies to liabilities and obligations. Often, a partnership agreement determines the division of profits, obligations, and liabilities.

Corporation: Incorporation involves the process of registering your business in Canada and the creation of a separate legal entity. As a result, you and any co-founders aren't personally responsible for liabilities or obligations related to your venture. Your business also has its own tax return. Corporations are a lot more complex than sole proprietorships and partnerships. They require minute book maintenance and compliance with many laws specific to corporations. Incorporation also provides significant tax benefits.
There are other structures like limited liability partnerships, limited partnerships, co-operatives, and not-for-profits. But these are not used as commonly and pertain to specific scenarios.
Tax Obligations
How your business is taxed depends on your corporate structure. A partnership and sole proprietorship mean you report any profits on your personal tax return. You can also deduct most of your business expenses on your tax returns. Corporations have different and much more complex tax reporting obligations.
You should also be aware of your sales tax requirements. If you earn over $30,000 CDN per year as a Canadian business, you need to collect GST/HST/PST. Specific obligations depend on your province and the location of your customer or client.
And if you sell products, figure out if any customs or tariff issues affect you and your end customer.
Regulatory Laws
Depending on your industry, you might have different regulatory laws that affect your company. For example, if you sell cannabis online, expect hordes of legal compliance issues.Overall, the laws that affect small businesses are complicated. It's vital to speak with a legal professional to understand what you need to know.
4. Build Your Website and/or Online Profile
Not every online business needs a website — believe it or not. For example, if you sell through Amazon or Etsy, your "store" effectively acts as your website. Social-media-based businesses are also just that — based on something like Instagram or TikTok.
But you need some sort of online "home base" — whether that's an Instagram page or website.
Remember that the biggest benefit to having your own website is that you get to choose your domain and hosting company, which can increase brand recognition and site speed. Check out NameHero's hosting services if you want a plan with a free domain.
Selling Products
The benefit of a website is the opportunity to optimize it for search engine optimization (SEO). You can sell your candles through Etsy or Amazon. But showing up on the first results page after someone searches "buy candles online" can drive serious leads.
Depending on your industry, getting to the first result page can be difficult. The same can also apply to platforms like Etsy or Amazon, where you want your product to show up first when someone searches for "cute candles" on the site.
Let's not forget another benefit of selling through your own website — reduced costs. With platforms like Amazon and Etsy, a significant piece of your profits goes to the platform. In contrast, building an eCommerce website via Shopify or Magento increases your profitability because you pay a monthly fee and not part of the sales proceeds.
Related read: How to Start a Custom Sticker Business
Selling Services
A website is almost mandatory if you sell a service online. How else can someone find you? A website gives you room to explain what you do and how you can help. But, it's not uncommon to find some entrepreneurs relying solely on social media.
We should also note that some business models can't really exist without a website. For example, if you're selling a subscription box or a piece of software. But even if you could sell off-site, you wouldn't want to. The ability to customize your subscription website can immediately set you apart from other competitors, and you'll need that edge as a new business.
Even if your main lead driver is social media or referrals, a website can nurture your clients. After you meet a lead or they discover you exist, a website lets them learn more about you and helps them trust you.
Building trust with a prospective client is vital, regardless of whether you're selling a digital fitness program, landing page copy, or consulting services.Your website should ultimately provide nurturing content like case studies, client testimonials, past work, etc.
5. Drive Traffic and Generate Leads
We used to always scream "location, location, location" when starting a business. But online commerce changes this — location is no longer a factor here (if you don't consider SEO or your chosen platform as a "location").
As a result, marketing and driving leads to your business are more important than ever. Marketing is ultimately how your customers and clients discover your company — you can't locate yourself in a high-traffic location and have people just show up like in the physical world.
While word of mouth might be a great source of business, it's hard when you're just starting. Below are four methods for your young company to generate traffic and leads:
Affiliate marketing is a great way to make money on the internet. But you can also leverage it to drive leads to your own business. You could have a blog write about your product or service and pay the blog a commission for every person who uses their coupon code. This way, you're getting a predictable return on investment from your marketing endeavour.

Paid ads are a great way to drive traffic to your website. You only pay when someone clicks on the ad. Platforms like Amazon or Etsy often have their own paid ad system where you can promote your product at a cost. You could also purchase space on Google search or most social media sites.

Search engine optimization lets your website rank higher on Google or another search engine without paying for ads. This can create a better sense of trust with customers and be more cost-effective. However, SEO can be highly technical and require a lot of content creation.

Influencer marketing is often a cost-effective way to promote a product. Individuals with a large following on platforms like TikTok or Instagram are often open to posting about products in exchange for getting them for free. But, influencers with significantly large followings may charge for a post.
6. Purchase Insurance
Insurance is a valuable part of starting an online business. It reduces the risks of a financial fallout because the right policy can pay for high costs if you face a lawsuit or lose your business belongings.
Consider the following policies for your online business:
Speaking with an expert insurance adviser can help you determine what policies you need. Ultimately, the policies your business needs depend … on, well, your business!
An online fitness coach and a digital-phone-stand seller have different needs. An insurance adviser helps you understand what those needs are.
Speak with APOLLO and get a free quote for a bespoke small business insurance plan today.
Final Thoughts on Starting an Online Business
Congratulations on taking the first steps to your new online venture! The internet provides many business models to follow for a profit. But, before jumping right in, it's valuable to do the proper market research and understand the laws that might affect your company.
Your digital business may need a website or some sort of platform to call home. And, don't forget to figure out how to generate traffic and leads to your business with the right marketing initiatives.
Lastly, mitigate your business risks with the right insurance. An expert insurance adviser can help you determine what policies you need.APOLLO's custom coverage can help make the insurance part of running your business feel effortless. Get a free quote, speak with an adviser, and purchase coverage online in under five minutes.
---
APOLLO Has You Covered
Get the protection you need in minutes with custom Business Insurance from APOLLO.
---
Limited time offer: Get comprehensive Tenant Insurance starting at just $11/month
Get no-nonsense coverage that's the best value for your money. Purchase in less than a minute, receive your policy instantly, and save when you buy online.
Get a free quote
4.6 rating

Limited time offer: Get comprehensive Tenant Insurance starting at just $11/month
Get no-nonsense coverage that's the best value for your money. Purchase in less than a minute, receive your policy instantly, and save when you buy online.
Get a free quote
4.6 rating

Getting insured is as easy as 1 - 2 - 3
1
Tell us (very little) about yourself
Just tell us your address, your name, email and phone number. And that's it. We'll give you a price in less than a minute.
2
Pay online easily and securely
You can choose to pay monthly or save money by paying for the entire year in one easy payment.
3
Get your documents in your inbox - instantly
As soon as you complete your purchase, you'll find your proof of insurance and policy documents waiting for you in your inbox.
Get covered today - it couldn't be easier
We've provided more than 1,000,000 quotes to Canadians just like you. Give it a try!

Reviews
4.6 rating
1,299 reviews
view all