How to Become a General Contractor in Canada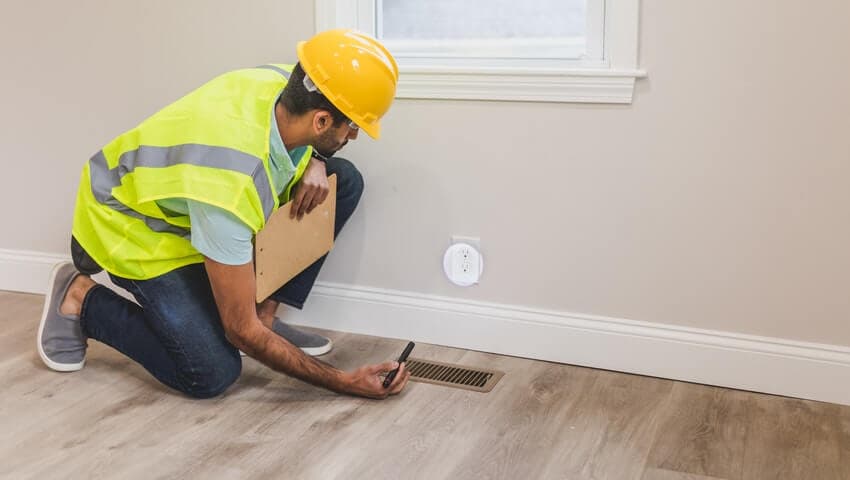 Get started on your journey to becoming a general contractor with these 5 steps from APOLLO.
General contractors are responsible for the daily oversight of construction projects. If you pursue this profession, you manage other people like electricians and plumbers, become the point of contact for clients, source materials, and manage budgets.
That said, a general contractor's role isn't always black and white. Sometimes you need to pick up a paint roller to get a project done. Other times, you're sitting in an office answering emails.
This article explains five steps to consider if you want to start your career as a general contractor.
---
Need Insurance for Your Small Business?
---
Becoming a General Contractor in 5 Steps
Below we describe a few steps you need to become a general contractor in Canada, including:
Attending a college or university program

Determining if you need a license or permit

Gaining real-world experience

Qualifying for special licenses

Purchasing the right business insurance
Related reads:How to Start a Contracting BusinessThe 3 Best Handyman Apps to Grow Your BusinessWhat Is Trades and Contractor's Insurance?
Step 1: Attend a College or University Program
The construction industry always needs trained professionals. General contractors need to not only understand how to use a hammer and drill but also the things taught in a classroom, such as:
Project planning

Software skills

Business management
There is also technical knowledge to learn like:
Structural engineering

Construction management

Building science
Canada has a variety of community college and university programs to prepare you for a general contracting career. Some specialize on the technical side. There are also engineering- or business-focused programs. Your education choice depends on what type of general contractor you want to be.
Also, consider the program's length. Some colleges only take a single year for a certificate. But universities could take four years for a bachelor's in building science.
---
Need Insurance for Your Small Business?
---
Step 2: Understand If You Need a License or Permit
There are numerous certificates of qualification, business licenses, and permits required to work in construction in Canada. License requirements are provincially mandated. Cities like Toronto require building renovators and building contractors to apply for a permit or license as well.
A benefit of attending a college or university program is understanding this permit and licensing process. It can get confusing. But a post-secondary program has no shortage of resources to guide you.
Step 3: Gain Real-World Work Experience
Construction and contracting is a hands-on field. Some of your job is client-based or so-called "office work," but you also need to know how to perform basic repairs and contracting work. Or else, how can you manage an entire construction site?
Working as a carpenter provides you with a general idea of how a construction or renovation site works. You can also see how your skills apply in the real world. Often, what we learn in college and university classes isn't the most practical method to accomplish goals.
Look for a general contractor who needs some help and see if they're open to hiring you. Construction is a field where mentors and apprenticeships are common or mandatory. So it's important to find someone who can teach you well.
---
Need Insurance for Your Small Business?
---
Step 4: Qualify for Specialized Licenses
Some contractors have licenses to qualify them for specialized projects. For example, you need to register with Tarion to build new homes in Ontario. Condominium construction also requires specialized licenses and registrations to ensure the integrity of these larger projects.
Because some work is more complex and requires additional qualifications, it usually means higher pay. So, obtaining these licenses and taking on specialized work can increase your income as a general contractor.
Step 5: Purchase the Right Business Insurance
As a general contractor, you usually run your own business or act as an independent contractor. The industry doesn't always have room for employees. As a business owner or independent contractor, you're taking on liability that employees don't.
For example, if you accidentally injure someone on a construction site, they might sue you for bodily injuries. You might then be liable for thousands of dollars in legal fees and damage awards.
The right insurance mitigates these risks. Policies like professional liability insurance or general liability insurance protect you from the cost of lawsuits if someone sues for negligence and misrepresentation or bodily injuries and property damage.
Additionally, you should understand the other issues that general contractors face. Storms could destroy your work and leave you and the client with losses. An excellent general contractor prepares for these problems with the proper builder's risk insurance.
This policy protects your job site from fires, rainstorms, and burglaries. As a result, you and your client won't end up arguing over who's liable for costs. Your insurance company pays for any repair or replacement costs on your behalf.
Related: How to work for insurance companies as a contractor
---
Need Insurance for Your Small Business?
---
Final Thoughts on Becoming a General Contractor
The construction and building industry is a great profession to jump into. And, a college or university program is a terrific way to start. Be sure you understand what licenses and permits you need to operate in your area.
Insurance is a core part of general contracting because the industry usually thrives on independent contractors and business owners. The right policy protects you from liabilities, high legal costs, and damage awards.
APOLLO's custom coverage can help make the insurance part of running your business feel effortless. Get a free quote, speak with an adviser, and purchase coverage online in under five minutes.
---
APOLLO Has You Covered
Get the protection you need in minutes with custom Contractors Insurance from APOLLO.
---
Limited time offer: Get comprehensive Tenant Insurance starting at just $11/month
Get no-nonsense coverage that's the best value for your money. Purchase in less than a minute, receive your policy instantly, and save when you buy online.
Get a free quote
4.6 rating

Limited time offer: Get comprehensive Tenant Insurance starting at just $11/month
Get no-nonsense coverage that's the best value for your money. Purchase in less than a minute, receive your policy instantly, and save when you buy online.
Get a free quote
4.6 rating

Getting insured is as easy as 1 - 2 - 3
1
Tell us (very little) about yourself
Just tell us your address, your name, email and phone number. And that's it. We'll give you a price in less than a minute.
2
Pay online easily and securely
You can choose to pay monthly or save money by paying for the entire year in one easy payment.
3
Get your documents in your inbox - instantly
As soon as you complete your purchase, you'll find your proof of insurance and policy documents waiting for you in your inbox.
Get covered today - it couldn't be easier
We've provided more than 1,000,000 quotes to Canadians just like you. Give it a try!

Reviews
4.6 rating
1,299 reviews
view all