How to Start a Custom Sticker Business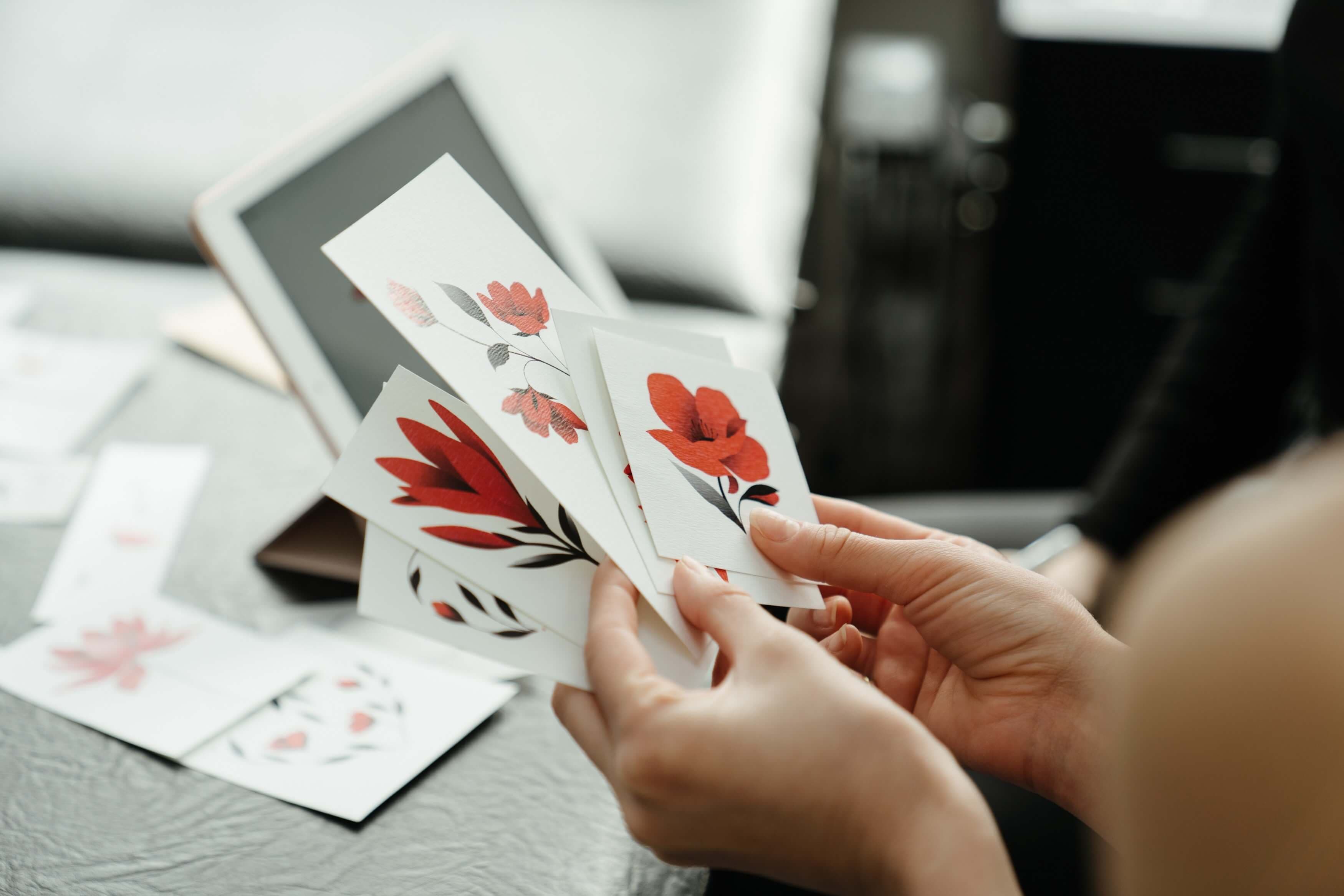 Looking to launch your own sticker-making company? Stick with these basic tips to get your business off the ground in no time.
As with any venture, it's important to come up with a business plan so that you know what direction you want to go in, and make intentional decisions to work toward that. A custom sticker business is no different.
In this article, we'll be taking a look at some tips for how you can get into the potentially lucrative industry of sticker making.
---
Need Insurance for Your Small Business?
---
7 Steps to Start Your Sticker Business
1. Figure out what type of stickers to sell
This is a big decision, as it will not only determine what type of sticker paper you'll use and what sticker market you'll be entering, but also what type of customers you'll attract. There are three main types of stickers.
Firstly, paper stickers are typically the cheapest to create, but are also the least durable. These stickers are not waterproof, tear easily, and should only be used indoors.

Secondly, polyester stickers are a great middle ground for those looking to balance quality and price. These are typically used in industrial environments for their durability against weather, temperature, and even some chemicals. Think safety hazard labels on industrial drums.

Finally, vinyl stickers are often considered to be the best types of stickers for starting a sticker business. Popular for their durability and strength, vinyl stickers can be laminated to withstand weather conditions, and are popular options for bumper stickers.
Deciding on what sticker types you're going to use is an important step, since the audience you want to attract will be drawn to certain types of stickers. For instance, people looking for a good bumper sticker won't even consider your business if you decide to only work with paper stickers.
---
Need Insurance for Your Small Business?
---
2. Decide on your target audience
Now that you've chosen what type of stickers you want to sell, you can start deciding on who it is you want to sell to, so that you can start marketing your products toward them. The sticker industry is a surprisingly competitive one, so you'll have to set yourself apart from the competition by finding a specific niche market that you can cater to.
Here are some examples of niche markets you can think about working with:
Pet owners

Travelers

Eco-conscious

Book lovers
Remember to do your research and find out exactly what the competition is like, who your audience is and how you can serve them better than your competitors.
Once you know what niche you want to sell to, you can start planning how to market towards them. If you're catering towards pet owners, for instance, you may want to think about getting some ad space wherever you think this audience might be: online pet food stores, blogs, and Reddit communities about pets are good places to start.
3. Design your stickers
This is where you can stand out from the crowd with your design creativity! Using a program like Photoshop or Adobe Illustrator to show off your sketching chops is a great way to bring your sticker ideas to life.
In addition, you can explore AI-based tools which can create unique images based on user inputs, further enhancing your designs.
If you haven't already, consider taking a graphic design course to further your ability, hone your skills, and provide yourself with formal training in leading programs.
As you start out your business, you should also take the time to experiment with new things. Working with textures, shapes, and colours are a great way to find something that will set you apart from your competition. This is your chance to convince your audience that your stickers are unlike anything they've seen before!
Related read: 9 Things to Do Before Starting a Business
---
Need Insurance for Your Small Business?
---
4. Create your stickers
Now that you have a niche audience and you've got some designs to show the world, it's time to start creating your stickers.
Generally there are two ways to do this: create them yourself with the right equipment, or outsource the work. While outsourcing will cost you for labour, supplies, shipping, and other hidden fees, it'll also save you from having to pay the upfront costs of getting all your own equipment, from sticker sheets to cutting machines — if you don't already have them.
Many people starting their own sticker business will outsource at first, while putting all the money they've earned towards purchasing their own equipment later.
5. Start selling your stickers
There are plenty of ways to start selling your stickers, such as:
Using an eTail platform
There are plenty of eTail (or online retail) platforms that you can use as a cheap way to start getting your products out there. While these will have lots of competition, they often have minimal or no fees to list your products, or they only charge you for every item sold.
Be sure to do your research to find out which platform is best for you. Some popular eTail sites for selling stickers are:
Shopify

Sticker You

Redbubble
Building your own website
While it'll cost you some money to get your own website going, it's a great way to personalize your online presence and make your brand known in the sticker industry.
Opening a brick and mortar store
While you'll need to have some good success first (or plenty of initial capital), opening up your own actual store is a great way to have a space to work out of and legitimize your brand — not to mention all that foot traffic you'll be able to pull in!
Just remember to get the right insurance if you do open up a physical store.
Selling at farmers markets or pop ups
This is a cheap way to have a physical presence in your area while still keeping costs down, as you won't have to pay the same expenses as opening up a brick and mortar store. This is an especially good tactic if your stickers cater to a local demographic.
Related read: How to Launch a Pop Up Shop
---
Need Insurance for Your Small Business?
---
6. Market your new business
Now that you have a product and a place to sell it, it's a great time to start letting people know about your business. A few popular ways to get the word out are:
Get professional photographs taken of your stickers. Especially for online stores, even the best quality stickers in the world won't get sold if they don't look appealing. Getting a high quality photographer can make a world of difference to how you present your brand.

Create social media profiles. Having a presence on platforms like TikTok, Instagram, and Facebook is a valuable way to get the word out about your brand and interact with your audience.

Use online marketing. Creating a Google Adwords campaign can significantly boost your online presence by showing your product to people on search engines. If you're unfamiliar with the platform, it can be well worth it to hire a specialist to create and run your campaigns.
7. Get the proper insurance
Making sure you have the right insurance is a vital part of any small business, and sticker businesses are no different. Say a competitor accuses you of stealing their designs. They could take you to court for a lengthy and expensive lawsuit that could end up bankrupting you, even if you're not at fault. Or, if your inventory catches on fire, having the correct insurance policy can save you from having to pay out-of-pocket for any replacements and damages.
Are you looking for an insurance policy that'll stick? APOLLO Insurance can offer simple solutions for complicated industries. Start our painless process and get your policy emailed directly to your inbox within minutes.
---
APOLLO Has You Covered
Get the protection you need in minutes with custom Business Insurance from APOLLO.
---
Limited time offer: Get comprehensive Tenant Insurance starting at just $11/month
Get no-nonsense coverage that's the best value for your money. Purchase in less than a minute, receive your policy instantly, and save when you buy online.
Get a free quote
4.6 rating

Limited time offer: Get comprehensive Tenant Insurance starting at just $11/month
Get no-nonsense coverage that's the best value for your money. Purchase in less than a minute, receive your policy instantly, and save when you buy online.
Get a free quote
4.6 rating

Getting insured is as easy as 1 - 2 - 3
1
Tell us (very little) about yourself
Just tell us your address, your name, email and phone number. And that's it. We'll give you a price in less than a minute.
2
Pay online easily and securely
You can choose to pay monthly or save money by paying for the entire year in one easy payment.
3
Get your documents in your inbox - instantly
As soon as you complete your purchase, you'll find your proof of insurance and policy documents waiting for you in your inbox.
Get covered today - it couldn't be easier
We've provided more than 1,000,000 quotes to Canadians just like you. Give it a try!

Reviews
4.6 rating
1,299 reviews
view all