Storage Hacks for Small Apartments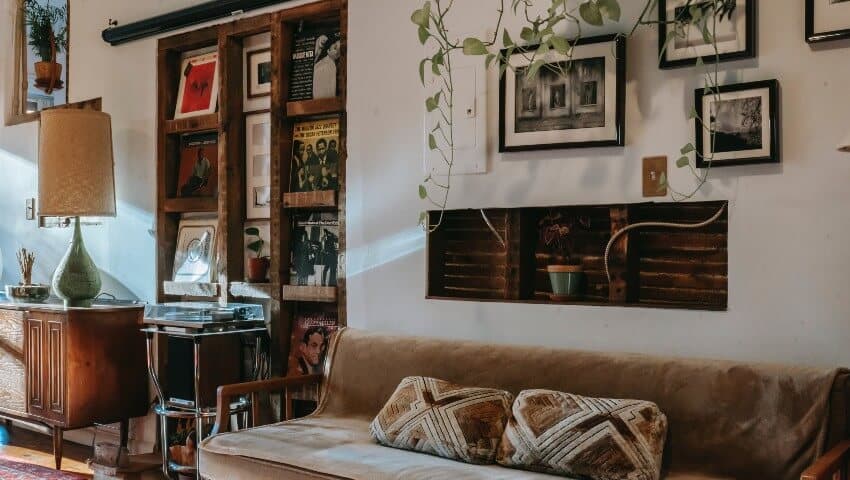 Living in a smaller unit? Read our article for some tips on how you can make the most out of your small space
Living in a small condo or apartment can be a challenge, especially when it comes to storage. With limited floor space and closet area, it can be difficult to find room for all your belongings. Fortunately, there are many creative ways to maximize storage space in even the smallest of apartments. In this post, we'll look at some innovative small apartment storage ideas to make the most of your living situation and stay organized.
1. Use Vertical Space
Vertical storage solutions are essential in small apartments; they help you make the most of your limited floor space. You can hang items on the walls or ceiling to free up even more room. Shelves, racks and hooks are all great ways to utilize vertical storage space. Installing shelves above desks, couches and other furniture pieces is a great way to store books, magazines and other items that you might not otherwise have room for. Wall-mounted shelving units or cabinets can be used in bathrooms or kitchens where floor space is at a premium. With creative ideas and careful planning, you'll be able to make use of every inch of vertical space in your apartment and create more room for living.
2. Dual-Purpose Furniture
When it comes to maximizing space in small apartments, dual-purpose furniture can be invaluable. Items such as ottomans or benches with storage compartments can give you extra room to store blankets, pillows and other items while providing additional seating. You can also use multi-leveled desks or tables that make use of the vertical space available in your apartment. This allows you to have a study area or workspace as well as storage underneath. Look for pieces of furniture that both provide storage and serve multiple uses such as a sofa bed with built-in storage drawers or an armoire with adjustable shelves.
Related Read: 12 Tips For Making the Most Out of Your Small Home Office
3. Create a Closet Organizer
Closet organizers are a great way to make your small space feel bigger. With options such as shelves, drawers, and hanging racks, these organizers can help you store items like clothing, shoes, and accessories more efficiently. They also offer an easy way to access items quickly, and make it easier to keep everything neat and tidy. With the right closet organizer in place, your small apartment will look much less cluttered and organized.
4. Kitchen and Bathroom Storage
The kitchen and bathroom are two spaces in your apartment that often require the most storage. Make use of every inch of space by utilizing vertical and overhead storage solutions such as wall-mounted shelves, hanging racks, and cupboards. Also consider creative multi-purpose items that can serve as both décor and storage such as floating shelves or a cart on wheels. With careful planning you can maximize your small kitchen and bathroom space while keeping everything neat and organized.
5. Creative Storage Solutions
When it comes to small spaces, creativity is key. There are many unconventional methods that can utilize any available room, from walls and ceilings to furniture pieces. For example, you can hang storage boxes or baskets on the wall to store items such as paper goods or kitchen utensils. You can also create shelving space with ladder-style bookcases or floating shelves of various sizes and shapes. If you have a high ceiling you can use rope and pulleys to hang items from the ceiling. And don't forget the back of doors, which are great for storing cleaning supplies and other items you don't need daily access to. With imagination and careful planning, there are countless creative storage ideas that will help you make the most out of your small spaces.
6. Rearrange furniture to create more space
One of the best and simplest ways to maximize space in small apartments is by rearranging furniture. Placing items closer to the wall or in corners can give you more room throughout your apartment. You can also take advantage of higher shelves and cupboards for additional storage. Consider removing bulky items such as bookshelves and replacing them with slimline bookcases that use less floor space. Multi-level desks and tables are great options for using vertical space as well. Rearranging furniture can create unexpected nooks in a small space, while also freeing up some room to move around.
7. Invest in Storage Containers
Investing in storage containers or bins is another great way to organize and store items without taking up too much room. Look for sturdy and stackable bins that can be labeled and easily located when needed. These are perfect for storing small items such as snacks, utensils, office supplies, mail and more! You can use baskets or bins in cupboards and on shelves to contain any clutter while freeing up valuable floor space. Additionally, small drawers which fit inside large furniture pieces make great organizers as they can be used to store makeup, wallets, sunglasses and other small objects that could otherwise get lost in larger spaces.
8. Make Use of Door Space
Making use of door space is another great way to increase storage and make your small apartment look bigger. Installing shelves, racks and hooks can provide some much-needed extra storage without taking up too much room. Try hanging a rack over the entrance door to hold umbrellas, hats and scarves. Shelf organizers fit neatly on interior doors and are perfect for storing bags and cosmetics. Over-the-door shoe holders provide several pockets for shoes or accessories such as hair straighteners, wallets or sunglasses. You can also add coat hooks to the back of bedroom doors for additional clothing storage.
9. Use DIY Solutions
When it comes to sensible storage ideas, DIY solutions are a great way to expand storage in small apartments without taking too much room. You can repurpose items like wooden wine crates to store books or towels, or use an old ladder as a chic clothing rack. Or, consider upcycling thrift-store finds with a coat of paint or by adding knobs and handles.
APOLLO makes tenant insurance simple with solutions that are as effortless as they are affordable. Get your free quote in less than a minute and we'll email your unique policy documents directly to your inbox.
Limited time offer: Get comprehensive Tenant Insurance starting at just $11/month
Get no-nonsense coverage that's the best value for your money. Purchase in less than a minute, receive your policy instantly, and save when you buy online.
Get a free quote
4.6 rating

Limited time offer: Get comprehensive Tenant Insurance starting at just $11/month
Get no-nonsense coverage that's the best value for your money. Purchase in less than a minute, receive your policy instantly, and save when you buy online.
Get a free quote
4.6 rating

Getting insured is as easy as 1 - 2 - 3
1
Tell us (very little) about yourself
Just tell us your address, your name, email and phone number. And that's it. We'll give you a price in less than a minute.
2
Pay online easily and securely
You can choose to pay monthly or save money by paying for the entire year in one easy payment.
3
Get your documents in your inbox - instantly
As soon as you complete your purchase, you'll find your proof of insurance and policy documents waiting for you in your inbox.
Get covered today - it couldn't be easier
We've provided more than 1,000,000 quotes to Canadians just like you. Give it a try!

Reviews
4.6 rating
1,299 reviews
view all