Moving to Canada from the USA: What You Need to Know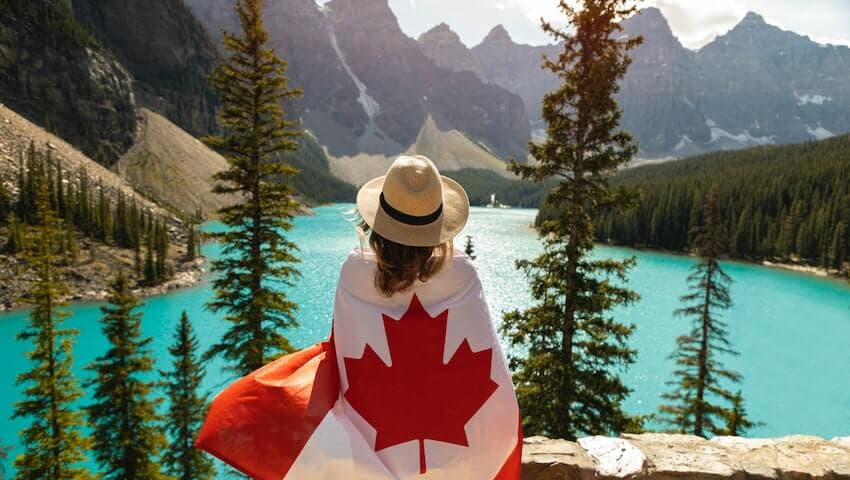 If you're thinking of moving from the USA to Canada, read on for all the information you need to help facilitate a smooth transition to this scenic country.
Considering making a move to the Great White North? Whether you're looking to study, work, or immigrate as a citizen, moving to Canada can provide you with plenty of opportunities in one of the most beautiful places on earth.From the booming metropolis of Toronto, Ontario to the picturesque mountainscapes of Vancouver, British Columbia, it's no surprise that over 10,000 people a year are moving from America to Canada.
If you're interested in joining that number, read on for everything you need to know about relocating from the United States to Canada, including the different ways to immigrate:
Family sponsorship

Employment offer

Entrepreneurship

Skilled worker programs

International study
Decide on the Immigration Path That's Best for You
There are a number of ways that citizens of the US can easily transition to their new life in Canada. If ending up in this beautiful country is your goal, you should first decide which immigration path you want to follow. Some of the most common options are:
1. Receive a family sponsorship
Canadian citizens can help sponsor their American spouses, conjugal partners, or common-law partners to facilitate their move to Canada. In general, to be eligible to sponsor someone, the Canadian citizen must:
Be over 18 years of age

Have no criminal record

Guarantee they can support who they are sponsoring

Not be on employment insurance or other government financial assistance

Prove that they plan on staying in Canada for the foreseeable future

If unmarried, showcase that they have been in a conjugal or common-law relationship via shared bills or important mail addressed to both parties
If all these conditions are met, Immigration, Refugee and Citizenship Canada (IRCC) typically takes about a year to process applications. Once accepted, it's time to call up the moving company!
2. Get hired for a permanent job
Receiving a job offer from a reputable company in Canada is one of the best ways to enter the country as a worker.
In order to get a work visa (or work permit as it's known up north), Canadian Immigration will often require a Labor Market Impact Assessment (LMIA) from the company. This is meant to showcase why it's justified to give the job to someone who isn't Canadian.
As long as you have an LMIA, a legitimate job offer, good health, and enough funds to support your move, as well as any family members who may come with you, you should be able to obtain a work permit without any trouble.
Work permits are temporary, but can last for as long as four years with the proper extensions and renewals, before you'll be required to move back to America.
3. Start a business in Canada
For those looking to live in Canada as a self-starter, there are a couple of different ways to make the move.
Start-Up-Visa Program. If you're an entrepreneur looking to start a new venture, the Government of Canada offers a unique start-up-visa program that gives permanent residency to those with a qualifying business idea and enough funds to live until their business becomes profitable.

Self-Employed-Persons Program. Those with relevant cultural or athletic experience – either self-employed or world class – can immigrate to Canada. Applicants must meet the criteria for the program, which is generally based on factors such as age, education, experience, and adaptability.
4. Immigrate as a skilled worker
There are also multiple options for skilled workers looking to transfer their experience to Canada, such as:
Provincial Nominee Programs. Provincial Nominee Programs (PNPs) are ways that certain provinces and territories try to attract workers with specific skills to join their local economy. While this is a great way to get into Canada initially, there are some cons. For instance, you may have less choice when it comes to which province or territory you can go to, and processing times are generally higher than other methods.

Express Entry. For those that may be more eligible immigration candidates, they can opt for the Express Entry route. Very similar to the PNP process, Express Entry costs more, but allows skilled workers to arrive in Canada and begin working in as little as six months from the date that their application is received. This program is based on a points ranking system, in which potential applicants input factors such as job experience, language proficiency, education, skills, and age. How attractive an individual's Express Entry application is will depend on the score they get.
5. Further your education in Canada
Another great way to make it across the border is to get accepted by a Canadian college or university as an international student. With so many world class institutions to choose from, studying in Canada is a great way to get a post-secondary education — and it's relatively cheaper than a lot of other countries for international students.
Remember that acceptance isn't the final step though! Once accepted by a college or university, you'll still need to apply for a study visa at your local Canadian visa office.
---
A note for Canadians moving to America
Keep in mind that for Canucks moving from Canada to the USA, their checklist will look substantially different. This is because many of Canada's policies and processes for accepting foreign workers are different when compared to moving to the United States. So, you'll want to do sufficient research when it comes to planning your move.
---
Make Sure You're Insured
When making the move to Canada, you'll want to ensure that you have the proper insurance for living abroad, such as:
Health Insurance. Due to Canada's popular universal healthcare policies, many people who immigrate are able to enjoy the benefits of this system, students included. However, policies differ from province to province, so you'll want to determine what you're covered for and purchase extra protection if needed.

Renter's and Homeowner's Insurance. Moving to a new country can be quite the process. Amidst all the forms you have to send in and planning you have to do, don't forget to make sure you have proper insurance policies in place. Whether you're renting or buying, having a homeowner's or tenant's insurance policy can help protect you from losses due to fire, wind, theft, and more.
Get a free online quote from APOLLO Insurance today to find out what policies are right for you.
Limited time offer: Get comprehensive Tenant Insurance starting at just $11/month
Get no-nonsense coverage that's the best value for your money. Purchase in less than a minute, receive your policy instantly, and save when you buy online.
Get a free quote
4.6 rating

Limited time offer: Get comprehensive Tenant Insurance starting at just $11/month
Get no-nonsense coverage that's the best value for your money. Purchase in less than a minute, receive your policy instantly, and save when you buy online.
Get a free quote
4.6 rating

Getting insured is as easy as 1 - 2 - 3
1
Tell us (very little) about yourself
Just tell us your address, your name, email and phone number. And that's it. We'll give you a price in less than a minute.
2
Pay online easily and securely
You can choose to pay monthly or save money by paying for the entire year in one easy payment.
3
Get your documents in your inbox - instantly
As soon as you complete your purchase, you'll find your proof of insurance and policy documents waiting for you in your inbox.
Get covered today - it couldn't be easier
We've provided more than 1,000,000 quotes to Canadians just like you. Give it a try!

Reviews
4.6 rating
1,313 reviews
view all