How Much Does It Cost to Build a House in Canada?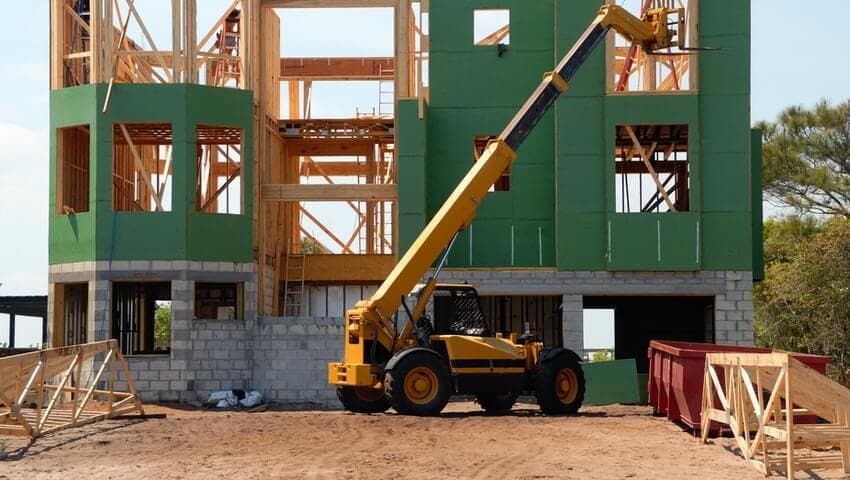 The Price Tags to Creating your Dream Home
While the cost of building a house varies between provinces and due to other factors, you can expect prices to range between $120 and $250 per square foot. If we average this to $185, it costs you approximately $370,000 to build a 2,000-square-foot home in Canada.
But, expect these costs to rise if you choose to build in a high cost-of-living area. For example, building a home in Vancouver could change your per-square-foot price to between $430 and $1,090.
This article details the expenses of building a home in Canada. It includes the steps to construct a house, as well as ideas to consider during the homebuilding process.
---
Need Builder's RiskInsurance?
---
How Much It Really Costs to Build a Home
1. Buy the Land
It's not uncommon for land to be your biggest expenditure. Buying land close to an urban area might cost as much as an already-built home. That's why you see people buying residential buildings in large Canadian cities only to demolish and rebuild them.
In contrast, land in rural areas is more affordable. Moving out of the city allows you to build a bigger home on a larger lot at the same or lower price.
2. Prepare the Land
After the land purchase, you need to clear trees, rocks, and other debris. You also need to set the foundation. Some areas might require you to connect the property to power and water lines, and add drainage systems.
The cost of these tasks varies. It depends on the land itself (some properties might require more work than others), the current market, the time of year, and more. Call a few contractors or custom-home builders to visit the property for an estimate.
3. Obtain Building Permits
Building a home requires permits from your city or municipality. Fees vary between each city.
Different areas may even have different cost structures. For example:
City of Toronto Building Fees

$198.59 for a building permit

$85.79 hourly fee for an examination and inspection

Halifax Building Fees

$0.30 per square foot for a building permit, with a minimum cost of $25

$0.10 per square foot for basements and garages
Check your municipality's website for more information.
---
Need Builder's RiskInsurance?
---
4. Architecture and Planning Costs
You should reserve six to 12% of your estimated home cost for architecture fees. Again, this depends on your area and who you hire. Someone with a solid track record ultimately charges more than someone with less experience.
Alternatively, you could reduce these costs to a few thousand dollars if you already have an existing home plan to work off of. These are commonly called production homes — cookie-cutter house designs you use to build your customized house. A building professional might only charge $1,000 to $3,000 to review existing plans and make minor changes.
5. Construction Costs
Your construction costs primarily consist of labour and materials. And like many other things on this list, the expenses are bespoke. It depends on what materials you use, the construction company you hire, and more. That's why it's challenging to provide a cost estimate without more information about your build.
Consider the following needs:
Basement foundation

Roof and shingles

Windows and doors

Cabinet and countertops

Flooring

Lights and electricals

Patio

Landscaping
Related: Steps to Building Your Dream Home
---
Need Builder's RiskInsurance?
---
What Else to Consider When Building a Home
1. Financing Your Property Purchase and Construction Expenses
You can't just purchase vacant land, buy building material, and pay labour expenses with a regular mortgage.
Some lenders offer short-term construction loans that convert to a traditional mortgage after the building is complete. Alternatively, you can get a short-term construction loan, apply for a conventional mortgage after your home's finished, and pay off the loan with the mortgage.
You may also need a separate mortgage to buy the vacant land. You can expect a higher down payment and interest rates for both the vacant lot and construction loan because your lender takes on more risk providing these loans — they're not a traditional home purchase that they collateralize with ease.
Speak to your mortgage broker for more information on how to best fund your home build. The borrowing process is complicated for building your home, so expert help is ideal.
2. The Local Real Estate Market
When it costs around $370,000 to build a home, you might assume that it's the best way to go — especially when older homes in areas like Toronto and Vancouver are over $1 million! But the primary determinant of your costs is usually the land.
Two homes of the same size can easily range between $200,000 and $1 million due to the difference in location. So while $370,000 might seem like a steal, this could be the cost of building in a rural area where the local real estate market is not as expensive as metro areas.
---
Need Builder's RiskInsurance?
---
3. The Time Required to Build a Home
You can't move into a custom-built home the moment you sign the mortgage. You need at least one or two years to build it. Exactly how long it takes depends on numerous factors. Consider the following:
How big is the home?

Are there a lot of intricate details?

Where are you building?

How large is your construction team?
Homebuilding may also come with unwelcome surprises that could delay your project and increase costs. For example, a storm could ruin your work after a month into the build, leaving your team to repair damages.
4. How to Reduce Your Costs
The following strategies can help reduce your home building costs:
Build a smaller home: Overall, a smaller home requires fewer materials and less labour. But, just note that your per-square-foot price might go up. Larger homes require a similar amount of materials — just stretched over a bigger space.

Use a production home design: A template production home costs significantly less than a bespoke-designed blueprint from an architect.

Take bids from contractors: Speak with several contractors and see if they're open to competing with each other for your business.

Choose a less expensive style: Some aesthetics are more affordable than others. For example, an industrial look involves exposed ceilings, so you don't need to pay to finish them.

Roll up your sleeves: If you can lend a hand in the building process or build certain parts of the home yourself, it can reduce labour costs.
---
Need Builder's RiskInsurance?
---
5. Purchase the Right Insurance
Building a home comes with a lot of risks. A storm that ruins your home's framework won't only delay your timeline but also means additional costs to repair the damage. Such an unfortunate event could also create issues between you and your contractor — who's responsible for the repair costs?
Builder's risk insurance mitigates these issues. This policy insures your home while it's under construction. If perils like a fire, storm, or burglary cause damages or losses to your structure as it's being built, a builder's risk policy can pay for it on your behalf.
Related: Who Pays for Builder's Risk Insurance?
You should also ensure your construction team has the right contractors insurance. If an accident causes bodily injury or property damage on the construction site, their contractors insurance policy can pay for damage fees. As a result, you reduce the liability of a third party visiting your construction site, hurting themselves, and looking to you for compensation.
Contractors insurance also reimburses you for financial losses if your builder is negligent or misrepresents their services. You can claim their insurance policy for any harm you face.Lastly, ensure you have the proper home insurance once your building is done. Home insurance provides numerous benefits, like paying for rebuilding or repair costs and replacing lost, stolen, damaged, or destroyed home contents.
Final Thoughts on the Cost of Building a Home
Building a house in Canada comes with a lot of expenses. It's hard to estimate a total budget due to individual preferences. The cost of land may be your most considerable expense.It's vital to purchase the right insurance policies when you build your home. A builder's risk policy prevents unfortunate circumstances like a fire or bad weather from leaving you with a financial loss.
Additionally, ensure your contractor has the right professional and general liability insurance. You will also need a home insurance policy once the build is complete.APOLLO's custom coverage can help make the insurance part of building your home feel effortless. Get a free quote, speak with an adviser, and purchase coverage online in under five minutes.
---
APOLLO Has You Covered
Get the protection you need in minutes with custom Builder's Risk Insurance from APOLLO.
---
Limited time offer: Get comprehensive Tenant Insurance starting at just $11/month
Get no-nonsense coverage that's the best value for your money. Purchase in less than a minute, receive your policy instantly, and save when you buy online.
Get a free quote
4.6 rating

Limited time offer: Get comprehensive Tenant Insurance starting at just $11/month
Get no-nonsense coverage that's the best value for your money. Purchase in less than a minute, receive your policy instantly, and save when you buy online.
Get a free quote
4.6 rating

Getting insured is as easy as 1 - 2 - 3
1
Tell us (very little) about yourself
Just tell us your address, your name, email and phone number. And that's it. We'll give you a price in less than a minute.
2
Pay online easily and securely
You can choose to pay monthly or save money by paying for the entire year in one easy payment.
3
Get your documents in your inbox - instantly
As soon as you complete your purchase, you'll find your proof of insurance and policy documents waiting for you in your inbox.
Get covered today - it couldn't be easier
We've provided more than 1,000,000 quotes to Canadians just like you. Give it a try!

Reviews
4.6 rating
1,299 reviews
view all