Five Types of Insurance Every Graphic Designer Should Have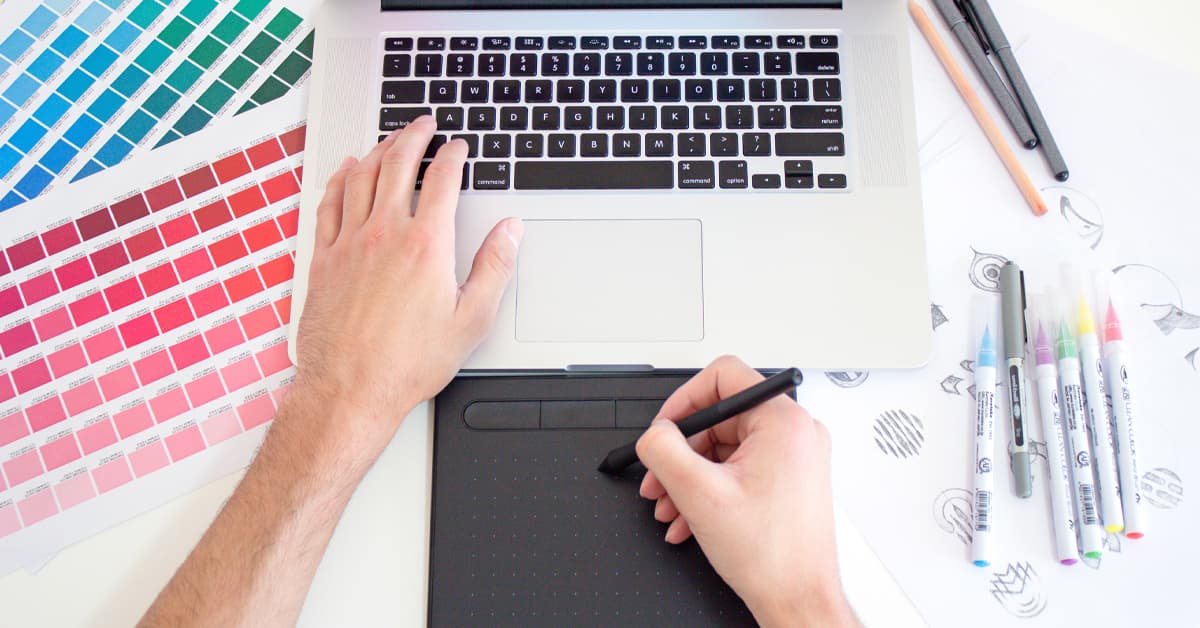 Working for yourself is a satisfying achievement. But entrepreneurship involves risks, even if you're providing day-to-day services such as graphic design. As a graphic designer, you need to understand your potential liabilities and shortcomings and hedge against these situations with the right insurance policies.
This article discusses five types of insurance that can protect you from the cost of lawsuits and other mishaps. These coverages include Professional Liability, Commercial General Liability, Equipment, Cyber, and Business Income Coverage.
Professional Liability/Errors and Omissions Insurance
As a freelance graphic designer, you're a consultant to your clients. You provide advice on the design of websites, marketing campaigns, and more. As a consultant, you're also open to liability when your service can be perceived as negligent. Low-quality work can mean delays for your client that costs them money.
---
Need Insurance for Your Small Business?
---
For example, if you finish a design and the client implements it only to realize there's a spelling mistake, your client will need to correct this. Corrections can cost substantial delays and money. As the person responsible, the client may pass these costs to you through a lawsuit. Professional Liability insurance, otherwise referred to as Errors and Omissions insurance, can cover these costs and the associated legal fees.
Related: How much professional liability insurance do I need
Professional Liability insurance can also come in in times of copyright infringement. Even if you didn't intentionally copy another person's work, slight similarities between your design and someone else's could result in a copyright claim. If someone claims you stole their design, Professional Liability insurance can help cover the costs associated with legal fees and any damages awarded to the person claiming you infringed on their work.
Commercial General Liability Insurance
Commercial General Liability (CGL) insurance generally covers any damages related to bodily injury or property damage to a third party that your business is liable for. Your work may mostly involve a computer and coffee, emails with the client, and the graphic design software of your choice, but that doesn't mean these damages can't surface.
If a client comes to your studio or office and trips on a cord or an icy sidewalk, the resultant injury may lead to a claim for damages. These damages are precisely what a CGL policy would cover. A CGL policy can continue to protect you if you work off-site. If you or your employee accidentally breaks a client's property at their office, a CGL policy can cover the costs associated with a replacement or repair.
Equipment Insurance
You can't design without the proper tools to assist you. A computer and cellphone are essential, and other tools, such as a camera, tablet, or drawing pad, may also be necessary. If you spill water over your laptop or someone steals it, it could be thousands of dollars in out-of-pocket costs. Luckily, Equipment insurance can protect you by covering the cost of repairing or replacing any insured equipment.
Furthermore, suppose you have a studio or separate office space. In that case, this policy can grow into a Commercial Property policy, which can protect you if anything happens to your workspace, like a natural disaster or vandalism. A Commercial Property policy can also cover the equipment inside your studio or office.
Business Income Coverage 
If your computer is being repaired or your creative studio was destroyed, it may mean you can't continue to work until the situation is resolved. And if this is true, you won't see any income until then.
Business Income Coverage can compensate you for periods where you're unable to make an income due to an insured loss. This can make sure that you're able to keep up with your business' expenses, as well as pay yourself and any employees.
Cyber Insurance
More than ever, freelance creatives keep essential and confidential information about their clients on their system. A cyber attack or malware can result in the wrong type of people accessing this information. This can result in unforeseen costs associated with losing client information, recovering data, and more. A cyber insurance policy can ultimately cover some or all of these costs so that you can focus on your business and not on computer viruses.
As a self-employed graphic designer, you take on numerous risks in running your business. Various insurance policies can mitigate the costs of these risks, such as property damage, negligence in your services, cybersecurity attacks, and more. The proper coverage provides peace of mind as you continue operate your business.
Related: What is the professional liability insurance coverage?
---
APOLLO Has You Covered
Get the protection you need in minutes with custom Business Insurance from APOLLO.
---
Limited time offer: Get comprehensive Tenant Insurance starting at just $11/month
Get no-nonsense coverage that's the best value for your money. Purchase in less than a minute, receive your policy instantly, and save when you buy online.
Get a free quote
4.6 rating

Limited time offer: Get comprehensive Tenant Insurance starting at just $11/month
Get no-nonsense coverage that's the best value for your money. Purchase in less than a minute, receive your policy instantly, and save when you buy online.
Get a free quote
4.6 rating

Getting insured is as easy as 1 - 2 - 3
1
Tell us (very little) about yourself
Just tell us your address, your name, email and phone number. And that's it. We'll give you a price in less than a minute.
2
Pay online easily and securely
You can choose to pay monthly or save money by paying for the entire year in one easy payment.
3
Get your documents in your inbox - instantly
As soon as you complete your purchase, you'll find your proof of insurance and policy documents waiting for you in your inbox.
Get covered today - it couldn't be easier
We've provided more than 1,000,000 quotes to Canadians just like you. Give it a try!

Reviews
4.6 rating
1,299 reviews
view all