7 Steps to Take Before Moving Into Your First Apartment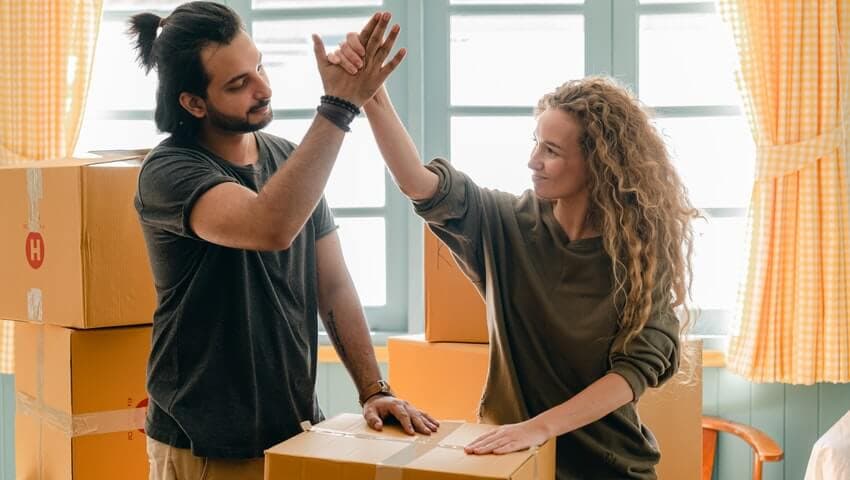 Moving into an apartment for the first time? Find out what you should do in preparation with the below first-time-apartment renter's checklist.
Like with all moves, preparing to take up residence in your first rental unit can seem overwhelming. Especially if you've never moved into an apartment before.
If this is your first time moving into a rental building, you may be wondering what the process is before you take possession. In this article, we'll go through the seven steps you should take when moving into your first apartment, checklist-style!
First Apartment Checklist: 7 Steps to Moving In
1. Find your apartment
The first thing you have to do before you move in? Find the right apartment, of course!
When looking for an apartment that suits your needs, it's important to do your research. Determine which area or neighbourhood you want to live in and narrow your search down to meet that criteria.
If you think you've found a unit that you want to rent, make sure that the building has a good reputation. Look into online reviews from other tenants who have lived there and check to see that the building is run by a responsible property management company. This will be important if there are any issues with your unit down the line that require support from your landlord or property manager.
Before you apply for any rental unit, it's also essential that you go see it in person. Pictures can be misleading, and you want to ensure that you know exactly what the space looks like before putting any money down.
Related: Condo vs. Apartment: What's the Difference?
2. Submit your application
Once you've visited the apartment and know that it's the unit for you, it's time to submit your rental application.
Often, these forms will require you to provide personal information like your credit history, your credit score, your monthly income, and references. So, it can be a good idea to have these details ready to go.
3. Organize movers if necessary
After you've received word that the apartment is yours (congrats!), it's time to start thinking about the logistics of the actual move.
Depending on how many things you're bringing with you to your new unit, you may want to consider hiring professional movers. However, if you'll just be moving your wardrobe and a handful of boxes, it may make more sense to transport everything yourself.
Don't forget that you can always reach out to friends and family for assistance!
4. Set up your rental payments
In order to secure your unit, you'll likely have to arrange your rental payments with your new landlord or property management company. Typical monetary items that are required to hold your apartment include a security deposit, as well as first and last month's rent.
You'll want to check with your landlord or property manager on their preferred method of payment. Some owners and building managers prefer receiving post-dated cheques, while others opt for arranging pre-authorized debit (PAD) payments directly through your bank account.
Related: What Documents Do You Need to Rent an Apartment?
5. Get renter's insurance
Once you've taken care of your payment details, it's time to look into how you can mitigate your risk as a renter.
Tenant's insurance is an essential step in protecting your finances and personal property from the unexpected. For example, with APOLLO's Renter's Insurance, you are covered in the event of:
6. Purchase essential items
In the days leading up to moving into your apartment, make a list of items that you must have right away. If you don't get around to buying everything before you move in, that's okay! But having your list will be helpful in getting organized.
To put together your list, think of the essential items that you'll need as soon as you move in. Below are some examples to help get you started!
Kitchen Items
Coffee pot and filters

Pots and pans

Dishes (or paper plates)

Glassware

Utensils

Dish cloths and towels

Paper towels

Dish soap and sponges

Oven mitts

Ice trays

Blender
Bathroom Items
Toilet Paper

Shower curtain

Toiletries

Facial tissues

Shampoo and soap

Cleaning supplies

First aid kit
7. Furnish your place
In the first week after you've moved in, you'll want to start looking into acquiring bigger ticket items for your unit, such as your furniture. Take your time though, since how you furnish your place is what will make your apartment feel like home.
When it comes to furniture, you can either save money and source your items second-hand. Or you can opt for high-quality, more expensive pieces. Regardless of what you choose, below are some important items to consider as you budget out what to buy.
Bedroom Furnishings
Bed frame and mattress

Duvet and sheets

Side tables

Dresser

Lighting
Living Room Furnishings
Seating

Decorative pillows

Coffee table

Television

Lighting
Dining Area Furnishing
Get in touch with our team today to find out how APOLLO can help make the insurance part of your move effortless.
Limited time offer: Get comprehensive Tenant Insurance starting at just $11/month
Get no-nonsense coverage that's the best value for your money. Purchase in less than a minute, receive your policy instantly, and save when you buy online.
Get a free quote
4.6 rating

Limited time offer: Get comprehensive Tenant Insurance starting at just $11/month
Get no-nonsense coverage that's the best value for your money. Purchase in less than a minute, receive your policy instantly, and save when you buy online.
Get a free quote
4.6 rating

Getting insured is as easy as 1 - 2 - 3
1
Tell us (very little) about yourself
Just tell us your address, your name, email and phone number. And that's it. We'll give you a price in less than a minute.
2
Pay online easily and securely
You can choose to pay monthly or save money by paying for the entire year in one easy payment.
3
Get your documents in your inbox - instantly
As soon as you complete your purchase, you'll find your proof of insurance and policy documents waiting for you in your inbox.
Get covered today - it couldn't be easier
We've provided more than 1,000,000 quotes to Canadians just like you. Give it a try!

Reviews
4.6 rating
1,299 reviews
view all