Decorating Your Apartment on a Budget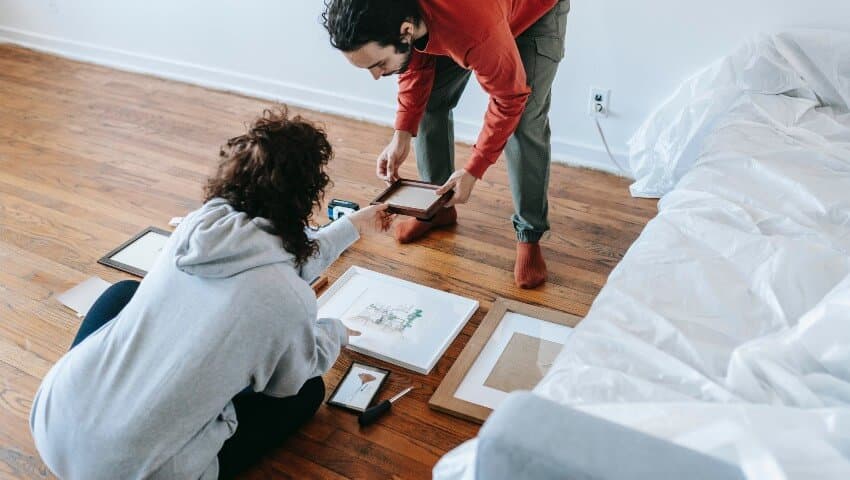 Setting up your apartment can be a challenge, especially on a budget. In this article, we've got some tips to help you out.
Decorating your apartment or condo can be fun and exciting, but it can also be a challenge — especially if you're working with a tight budget. However, just because you don't have a lot of money to spend doesn't mean you can't create a cozy and personalized space that reflects your style and personality. In fact, with a little creativity and resourcefulness, you can turn your rental home into a warm and inviting haven, without breaking the bank. In this guide, we'll share some ideas and inspiration to help you decorate your apartment on a budget, from vintage finds to DIY projects and creative repurposing of furniture. So whether you're a college student on a shoestring budget or a young professional trying to save money, we've put together some home decorating ideas on a budget.
Setting Your Budget
Before we dive into the fun stuff, it's important to set a realistic budget for your decorating project. While it may be tempting to splurge on that gorgeous designer chair or expensive lighting fixture, it's important to be mindful of your finances and stick to what you can afford. Setting a budget will help you prioritize your expenses and keep you from overspending. It will also make it easier for you to plan ahead and make smart purchasing decisions. In the next section, we'll discuss some tips to help you set a budget for your apartment decorating project.
Tips for Setting your Budget
When setting a budget for your apartment decorating project, here are some things to keep in mind:
Determine how much you can realistically spend on your decorating project.

Consider your monthly rent and other obligations, such as bills and groceries, before deciding on a budget.

Prioritize your expenses and decide how much you want to allocate for each item, such as furniture, decor, and accessories.

Be creative and resourceful in finding affordable options, such as garage sales, thrift stores, and DIY projects.

Consider using online resources and tools, such as budget calculators and home decor apps, to help you stay on track.
Keep these tips in mind as you plan your apartment decorating project, and you'll be on your way to creating a cozy and stylish living space that you can be proud of.
Related Read: 7 Steps to Take Before Moving Into Your First Apartment
Plan Before You Start Shopping
Once you've set your decorating budget, it's time to start planning. A well-organized plan can help you stay on track and avoid impulse buying or overspending. Before you start shopping for furniture and decor, consider the following:
Create a design plan for your apartment. Decide on the overall style, color scheme, and layout that you want to achieve. This will help you narrow down your choices and keep you focused on your decorating goal.

Make a list of everything you need to buy. This includes big-ticket items like furniture as well as smaller items like curtains and decorative pieces.

Prioritize your purchases based on your needs and budget. Start with the most essential items and work your way towards the less important ones. This will help you stay within your budget and prevent you from overspending.
By planning ahead, you can make the most of your budget and create a cohesive and stylish living space that reflects your personal taste and lifestyle.
Thrift Store Finds and Garage Sales
Thrift stores, garage sales, and online marketplaces like Craigslist and Facebook Marketplace are great places to find affordable furniture and decor items. One person's trash could be your treasure, so don't hesitate to explore these alternative options for decorating your apartment. Here are some tips to keep in mind when shopping second-hand:
Take your time browsing through the items. You may need to visit several thrift stores or garage sales before you find what you're looking for.

Check for quality and functionality of the items before purchasing. Sometimes, older furniture may need some cleaning or minor repairs, but this could save you money in the long run.

Negotiate the price. Most thrift stores and garage sales have flexible pricing, so don't be afraid to ask for a lower price or bundle deals.
Shopping second-hand not only helps you save money but also gives you the opportunity to find unique, vintage pieces that add character and charm to your home.
Related Read: The Ultimate Apartment Moving Checklist
Creative DIY Projects
DIY projects are a great way to add your personal touch to your apartment decor, while also staying within your budget. You don't have to be a DIY expert to create some beautiful, unique pieces for your home. There are plenty of simple and easy DIY projects that you can try, such as:
Painting furniture or old frames to give them a fresh new look

Creating your own artwork, such as abstract paintings or collages

Making your own throw pillows or curtains using affordable fabric

Upcycling old items into new decor items, such as turning old books into bookends or wine bottles into vases

Adding wallpaper or decals to your walls to create a feature wall or add pattern to your space
With a little creativity and some basic crafting skills, you can transform your apartment into a personalized and cozy space that reflects your personality and tastes.
Repurposing and Refurbishing Furniture
Repurposing and refurbishing furniture is another creative way to decorate your apartment on a budget. Instead of buying new furniture, you can find affordable pieces and transform them into something new and unique. Here are some ideas to get you started:
Reupholster old chairs and sofas using fabric that matches your apartment decor.

Repurpose old crates, pallets, or boxes to create bookshelves or storage units.

Turn an old coffee table into an ottoman by adding cushions and fabric.

Add legs to an old chest or suitcase to turn it into a vintage-style coffee table.
With a little bit of elbow grease and some creativity, you can turn old and uninteresting furniture into statement pieces that give your apartment a unique and personalized look.
Related Read: How Much Rent Can I Afford in Canada?
Wall Art and Decorations
Wall art and decorations are essential for adding personality and style to your apartment. However, choosing the right wall art and decorations can be a daunting task, especially when you're on a budget. Fortunately, there are plenty of affordable options that can spruce up your walls and make a big impact. Here are some tips to help you choose the right wall art and decorations for your apartment:
Consider your overall design plan and choose wall art and decorations that enhance your apartment's style and colour scheme.

Mix and match different types of wall art, such as paintings, prints, and photographs, to create an interesting and dynamic display.

Create your own wall art using canvases, prints, or cardboard.

Look for wall art and decorations at garage sales or thrift stores.

Use wall decals and stickers as a creative and affordable way to add pattern and texture to your walls.
By taking these tips into account, you can choose wall art and decorations that fit your budget and add interest and character to your space.
Lighting and Accessories
Lighting and accessories are often overlooked when it comes to decorating an apartment, but they are just as important as furniture and decor. Not only do they add functionality to your living space, but they also enhance the overall aesthetic and create a cozy and inviting environment. Here are some tips for adding lighting and accessories to your apartment decor:
Use lamps and accent lighting to create different moods and highlight specific areas of your apartment.

Add plants or flowers to bring life and color to your space.

Use decorative pillows, throws, or rugs to add texture and warmth to your living areas.

Use storage baskets or boxes to keep clutter at bay.

Display personal items like books, art, or family photos to give your apartment a personal touch.
By using these tips, you can add a touch of style and comfort to your apartment without spending a lot of money. Plus, your apartment will feel more welcoming and cozy with the addition of well-chosen lighting and accessories.
APOLLO offers effortless tenant insurance to protect your newly decorated space. Get a free quote in less than a minute and have your new policy documents sent right to your email inbox.
Limited time offer: Get comprehensive Tenant Insurance starting at just $11/month
Get no-nonsense coverage that's the best value for your money. Purchase in less than a minute, receive your policy instantly, and save when you buy online.
Get a free quote
4.6 rating

Limited time offer: Get comprehensive Tenant Insurance starting at just $11/month
Get no-nonsense coverage that's the best value for your money. Purchase in less than a minute, receive your policy instantly, and save when you buy online.
Get a free quote
4.6 rating

Getting insured is as easy as 1 - 2 - 3
1
Tell us (very little) about yourself
Just tell us your address, your name, email and phone number. And that's it. We'll give you a price in less than a minute.
2
Pay online easily and securely
You can choose to pay monthly or save money by paying for the entire year in one easy payment.
3
Get your documents in your inbox - instantly
As soon as you complete your purchase, you'll find your proof of insurance and policy documents waiting for you in your inbox.
Get covered today - it couldn't be easier
We've provided more than 1,000,000 quotes to Canadians just like you. Give it a try!

Reviews
4.6 rating
1,313 reviews
view all