City Series: The Average Cost of Living in Ottawa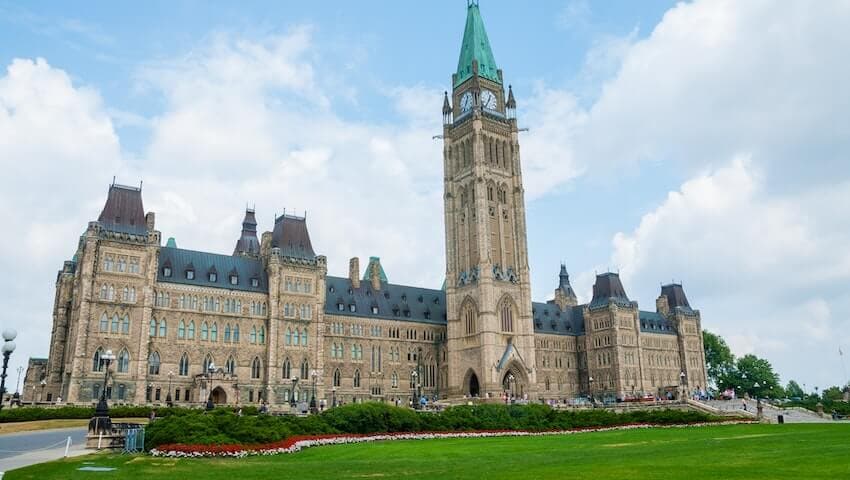 Ottawa is known for being the capital city of Canada and home to our nation's federal government. But what is the average cost of living in this city?
Ottawa, Canada's capital city, is located in Southern Ontario between Toronto and Montreal. Here, you'll find the Rideau Canal, Parliament Hill, and many other national historic sites.
Life in Ottawa offers views of the Ottawa River and access to a bustling parliamentary city. But if you're planning to move there, you probably want to know more about this city than its major tourist attractions. Specifically, you're likely interested in what the monthly costs of living here are.
In this article, we share a breakdown of the average costs of living in Ottawa, Ontario.
Ottawa's Cost of Living
Interested in moving to Ottawa but want to know how much it will cost? Below, you'll find the average prices of everything from housing to entertainment, based on statistics provided by Numbeo.
1. Housing
As with any city, the expenses associated with housing can vary quite a bit. Your monthly costs in Ottawa will depend on several factors, including how big your space is, where it's located, and whether you're renting or paying down a mortgage.
Below are a few examples of what you could be paying to rent or buy a home in Ottawa.
What is the cost of rent in Ottawa?
Renting a one-bedroom apartment within the city centre of Ottawa would set you back around $1,695 per month, on average. But if you decide that you'd rather be in a larger space outside of the downtown core, such as a three-bedroom place, you'd be spending closer to $2,225 per month.
It's important to remember that these average rent costs don't typically reflect all of your home expenses. For example, while some units may include utilities in the price of your rent, others may not. You should also separately account for the cost of things like parking and your tenant's insurance.
What is the cost of a home in Ottawa?
To purchase a condo in Ottawa's city centre, you're looking at an average price of $6,385 per square metre. However, if you want to live a little outside of the downtown core, you'll likely be paying less, with the average cost per square metre ringing in around $4,145.
For stand-alone houses, the average price of a home in Ottawa is approximately $661,335.
Of course, budgeting for a home also includes other expenses outside of the purchase price. For example, don't forget to consider costs like your homeowner's insurance, annual maintenance, and property taxes.
2. Childcare
The price of childcare in Ottawa is about $1,350 per month for one child. This is based on the average cost of attending a private facility, such as a daycare or preschool.
In Ottawa, the average monthly cost of hiring a full-time nanny is actually not much more than paying for a spot in a daycare. Typically, a childcare provider of this sort would charge around $18 per hour, which is around $1,600 per month.
3. Education
If you plan to send your children to public school in Ottawa, the cost is $0 for all Canadian residents. However, if you'd rather have your children attend a private school, your yearly bill will likely be somewhere in the tens-of-thousands.
For example, $18,230 is the average annual tuition for Ottawa private schools listed on the website for Our Kids.
4. Entertainment and Fitness
There are quite a few leisure activities available in this city that you may want to consider when budgeting for a life in Ottawa.
Prices range from activity to activity, with monthly memberships to a fitness club costing around $70 and weekend tennis court rentals ringing in at almost $30. For movie goers and sports fans, prices vary even more.
Although movie tickets are relatively cheap, with a single price of admission coming in at around $15, sporting events are significantly pricier.
For example, the average price of an Ottawa Senators ticket is $74. But if you'd rather attend a CFL game in the city, you're typically paying even more, with the average ticket costing over $90. Attending an Atlético Ottawa soccer game, on the other hand, is one of the more affordable options. The average price of a soccer ticket is just under $60.
In total, if you would like to belong to a gym, see a movie each month, and attend at least one sporting event, you'd spend an average of $160.
5. Food
Before you can budget for the cost of food in Ottawa, you'll need to take a look at your dining habits. For instance, how much you pay in this city will depend on how much you like to dine out versus eat in.
If you're someone who prefers to eat their meal at a restaurant or order take away food, then you're likely going to spend more on food. For instance, a meal for two at an inexpensive chain restaurant will cost around $12 per person. But a three-course meal at a mid-range establishment will be closer to $40 per person.
Purchasing groceries for home-prepped meals will also vary, depending on where you buy your food, as well as your dietary needs and restrictions. On average, however, you can expect to pay around $350 per month, assuming you buy groceries that include staple items like milk and cheese each week.
6. Transportation
Whether you plan to drive your own car, purchase monthly parking downtown, or take public transportation will all play into what you spend on transport each month.
A monthly transit or bus pass in Ottawa costs $122.50. While this isn't the cheapest pass when compared to other major cities in Canada, it is quite affordable if you consider the costs of owning a car.
For example, Numbeo reports that a new car like a Volkswagen Golf would set you back about $28,700. And that's not including expenses like maintenance, car insurance, gas, or parking.
7. Utilities
When assessing the price of utilities, you'll first need to determine what you should sign up for. As mentioned earlier in this article, rental prices may include your utilities, such as heating and electrical.
Once you've figured out what you need to budget for, the below average costs of monthly utilities in Ottawa can help you firm up your numbers:
Cell phone prepaid talk time: $0.28 per minute (no plan)Internet and cable: $79.43Electricity, heating, and hydro: $160
Previous City Series Articles
Want to know how much it costs to live in other Canadian cities? Check out APOLLO Magazine's previous articles in this series:
No matter where you're located, living expenses add up. Protect your finances with comprehensive insurance coverage from APOLLO.
Limited time offer: Get comprehensive Tenant Insurance starting at just $11/month
Get no-nonsense coverage that's the best value for your money. Purchase in less than a minute, receive your policy instantly, and save when you buy online.
Get a free quote
4.6 rating

Limited time offer: Get comprehensive Tenant Insurance starting at just $11/month
Get no-nonsense coverage that's the best value for your money. Purchase in less than a minute, receive your policy instantly, and save when you buy online.
Get a free quote
4.6 rating

Getting insured is as easy as 1 - 2 - 3
1
Tell us (very little) about yourself
Just tell us your address, your name, email and phone number. And that's it. We'll give you a price in less than a minute.
2
Pay online easily and securely
You can choose to pay monthly or save money by paying for the entire year in one easy payment.
3
Get your documents in your inbox - instantly
As soon as you complete your purchase, you'll find your proof of insurance and policy documents waiting for you in your inbox.
Get covered today - it couldn't be easier
We've provided more than 1,000,000 quotes to Canadians just like you. Give it a try!

Reviews
4.6 rating
1,299 reviews
view all