The Costs of Owning a Home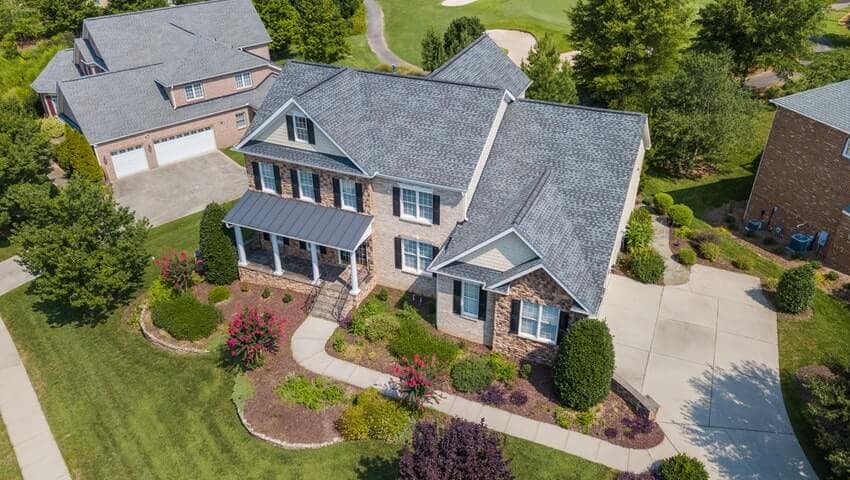 Buying a house is one of the biggest purchases most people will make in their lives. Make sure you're budgeting for all the costs of home ownership with this guide.
You've spent months saving, budgeting, and searching for the perfect home through open houses and online listings, and you've finally found one that hits all the boxes.
Congratulations! For discerning homebuyers, that's quite a feat. However, there can be hidden costs and fees that you may not have budgeted for.
In this guide, we'll take a look at the many costs of home ownership – from initial expenses to monthly payments – to make sure your budget is on track.
---
Need Home Insurance?
---
Budget for the Initial Costs
Buying a home is a complicated legal procedure with plenty of steps and hoops to jump through. Because the process can be so tricky, it can be easy to miss certain fees in your budget, and they can sometimes come with a hefty price tag.
Related: How to save for a down payment
Here are some common fees and costs that you should factor into your budget for the initial costs of owning a home:
1. Home appraisal fee
Most banks and mortgage lenders will require you to confirm the cost of the property. Often, they'll provide you with an appraisal company or list of companies that they trust.

Approximate cost: Anywhere from $150 to $500.
2. Land title transfer tax
Land title transfer tax is an additional (and often overlooked) cost paid provincially or municipally when someone purchases a property. This payment can't be tacked onto your mortgage, but must be paid up front and in full upon possession. Be sure to look into your location and situation, as this cost can sometimes be returned to you in the form of a rebate.

Approximate cost: The way that the cost of land title transfer tax is calculated varies greatly depending on what province or territory the sale is happening in, so be sure to do your research to avoid surprises. A good rule of thumb is between 1-to-1.5% of the value of your property.
3. Real estate commission
Real estate can be a tricky thing to navigate, so it's often a good idea to hire a real estate agent or realty group to help you ask the right questions and not end up with a poor deal. However, they unfortunately won't do this for free. There are a number of different ways that this cost can be calculated, so while you're shopping around for an agent or realty, be sure to ask what method they use.

Approximate cost: Most often between 3-to-7% of the purchase price.
4. Home inspection cost
This important fee is not one you want to miss. Before signing the papers and taking possession of the property, make sure you get a home inspection from a reliable source. This will prevent you from finding yourself in a scenario where your dream home is actually a money pit with plenty of potential problems and poor craftsmanship.

Approximate cost: This can depend on multiple factors, such as what area you're in, the age and size of the property, and the type of property it is (condo, apartment, house, etc). Generally, this cost is between $300 to $600.
5. Legal fees and closing costs
You should make sure you hire a lawyer to look over the documents you're signing, as they'll be able to see any red flags or worrisome aspects easily. With such a big purchase on the line, knowing that a professional has looked over your legal documents brings a peace of mind that's well worth the costs associated with it.

Approximate cost: Depending on what area you live in, legal fees can cost between $450 to $1,500.
6. Moving costs
While it may seem obvious, it's easy to get caught up in the legal jargon and hidden fees and forget the most obvious one: actually moving in! This can vary quite a bit depending on whether you're hiring movers, if you need a moving van, or if you're moving to another town, city, province, or territory.

Approximate cost: Anywhere from $700 to $2,750 when hiring movers.
7. New home costs
While many homes are sold ready to move into, there may be a few things that need fixing up right away. Broken appliances, burnt out lightbulbs, or other minor fix-it jobs should have a budget set aside so you're not left to worry about these extra (and often inevitable) costs. Depending on the type of home you buy, these can be higher. For instance, older homes will generally require more upkeep than a brand new one.

Approximate cost: It's a good idea to budget anywhere from $1,000 to $3,000 for unexpected new home costs.
Let's say your new home has a $750,000 price tag. Based on your circumstances and the figures above, you should be budgeting anywhere from $32,500 to $72,000 of additional fees before moving in.
The wide disparity in these numbers means that it's important to know your own situation and budget for these factors so you're not surprised by any hidden fees.
Typical ongoing expenses
Now that we've taken a look at the one-time expenses common to the move-in process, let's take a look at typical fees that contribute to the monthly costs of owning a house.
1. Mortgage payments
Typically, your biggest expense will be your monthly mortgage payments, which cover the cost of the monthly interest you owe on your loan, as well as part of the principal.
2. Utilities
Don't forget about your monthly utilities bill! This most commonly covers your electricity, heating, water, internet, as well as your home phone and cable if you have them.
3. Property taxes
While these are sometimes included in your mortgage payments, all homeowners are required to pay property taxes. This fee is usually calculated based on the value of the property.
4. Condo fees
If you're looking to purchase a condominium, there's a very good chance you'll be required to pay monthly condo fees on top of your mortgage payments. This goes toward maintenance costs for common areas, such as elevators, lobbies, pools, and other shared amenities.
5. Home maintenance
If you don't live in a condo, you should still put money away each month for an emergency fund to cover any projects or home maintenance you may need to do. You don't want to get caught needing to replace a furnace, air conditioning unit, or kitchen appliance that breaks down unexpectedly.
6. Homeowner's Insurance
Homeowner's insurance premiums are important monthly payments to make, as they can help protect you from unpredictable costs. A good home insurance policy will make sure you don't have to pay out of pocket for any theft or damage to property inside or outside your home.
Contact APOLLO today and get insured in minutes. Even if you haven't bought your home yet, we can schedule a date to activate your policy and you won't be billed until it begins.
Related: How much is homeowners insurance
---
APOLLO Has You Covered
Get the protection you need in minutes with custom Home Insurance from APOLLO.
---
Limited time offer: Get comprehensive Tenant Insurance starting at just $11/month
Get no-nonsense coverage that's the best value for your money. Purchase in less than a minute, receive your policy instantly, and save when you buy online.
Get a free quote
4.6 rating

Limited time offer: Get comprehensive Tenant Insurance starting at just $11/month
Get no-nonsense coverage that's the best value for your money. Purchase in less than a minute, receive your policy instantly, and save when you buy online.
Get a free quote
4.6 rating

Getting insured is as easy as 1 - 2 - 3
1
Tell us (very little) about yourself
Just tell us your address, your name, email and phone number. And that's it. We'll give you a price in less than a minute.
2
Pay online easily and securely
You can choose to pay monthly or save money by paying for the entire year in one easy payment.
3
Get your documents in your inbox - instantly
As soon as you complete your purchase, you'll find your proof of insurance and policy documents waiting for you in your inbox.
Get covered today - it couldn't be easier
We've provided more than 1,000,000 quotes to Canadians just like you. Give it a try!

Reviews
4.6 rating
1,313 reviews
view all