Hot Dog Cart Insurance
Hot dog carts are a classic city staple. As a hot dog vendor, you prepare and serve food that comes with many operational risks. APOLLO Insurance can protect your hot dog cart business. Get a quote and buy insurance online in under five minutes.
Get a Free Online Quote
4.6 rating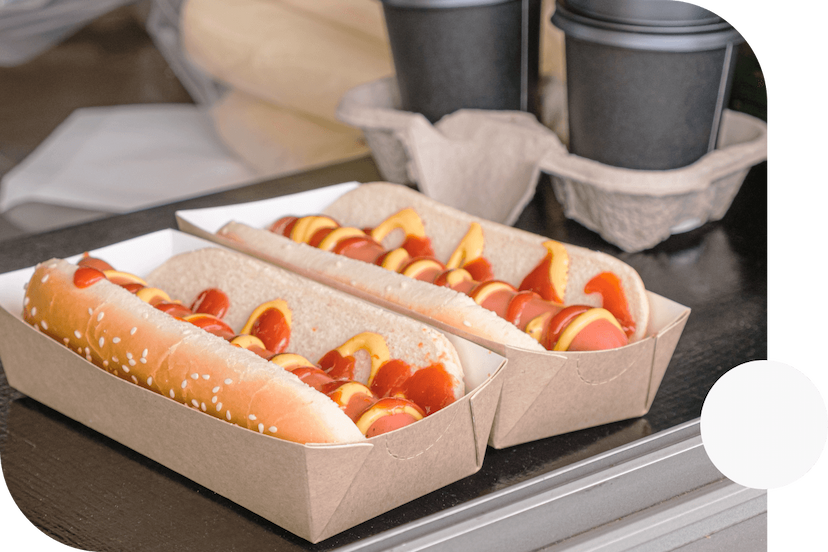 Get Insurance in 3 Easy Steps
1
Find and select the coverage you need with a quick and easy quote.
2
Choose a convenient payment plan that suits you best.
3
Get your policy documents in your inbox instantly.
No matter how much you prepare, your hot dog cart business still faces risks.
A hot dog cart is nothing like your average restaurant or takeout spot. It provides cities with a quick classic bite. Running these carts is a fast-paced environment with often only one person working the kitchen and counter. No matter how long you've been in the business, mistakes still happen. Undercooked food during a busy rush hour or condiments going bad without you noticing can lead customers to the stomach flu. Mitigating the financial fallout of these risks requires proper protection. APOLLO Insurance provides customized insurance plans for your hot dog cart business, so you're prepared for any unfortunate situation.
Running a hot dog cart usually means an open flame, sharp tools, and limited space. No matter how experienced you are, work injuries can occur. For example, a curious child who leans in too close could get burned. General liability insurance can guarantee that you won't have to pay the legal fees or any settlement or damage award payouts if a lawsuit arises.
By obtaining the proper hot dog cart insurance plan, your business remains financially secure in times of turmoil. This lets you focus on providing a safe and delicious hot dog to customers instead of turning your attention to legal stresses.
Professional Liability Insurance
Professional liability insurance for hot dog cart owners covers legal fees and damage award costs if a customer accuses your business of negligent, unsatisfactory, or misrepresented services. This remains true regardless of whether you're liable or not.
General Liability Insurance
General liability insurance for hot dog cart businesses guarantees coverage if third parties claim they faced bodily injury or property damage as a result of your operations. General liability insurance can cover medical bills, replacement costs, and legal fees.
Contents Insurance
Content insurance for hot dog carts provides replacement costs for lost or damaged business property resulting from an unexpected event. If your equipment and tools are damaged or stolen due to a fire, bad weather, theft, or other events, your insurer can cover you on a replacement cost basis.
Commonly Asked Questions About Hot Dog Cart Insurance
Why does owning a hot dog cart require insurance?
Hot dog cart vendors provide a convenient lunch and dinner option to city-goers. People know if they're in a pinch that there's a hot dog cart right on the corner that they can grab food at in five minutes flat. But if your service doesn't meet a particular standard of care and poses a risk or causes harm to a customer, your business may be in jeopardy. That's why proper insurance is crucial to protect your business from this type of harm.   Operating a hot dog cart usually requires complicated licenses from the city, which may need you to have insurance. In this instance, it would be illegal to continue your hot dog cart business without the right insurance plan.   Without general or professional liability insurance, your business is susceptible to lawsuits from customers and third parties. If sued, you could be on the hook for more than you have and face possible bankruptcy. Insurance protects against this possibility by covering your legal expenses and any damage awards if your business is found liable.
What types of risks do I face as a hot dog cart owner?
Regardless of how much you've prepared, you can't guarantee perfection. Even the most experienced hot dog cart vendors make mistakes during their careers. A customer only has to allege you were negligent or that your food wasn't up to a certain standard for the legal process to begin. Without coverage, you'll need to pay for legal fees out-of-pocket.
  Hot dog carts have many hazards that can result in lawsuits. Your grill is hot and can burn customers or third parties if they get too close. This is a foreseeable injury that can lead to a lawsuit. Even if it was the customer's fault for touching your stove, you could still be liable for their harm because it occurred at your business location. The medical expenses and legal fees related to such an injury can be expensive and detrimental to your business if you're uninsured.
  Hot dog carts are susceptible to vandalism, fires, and thefts. Waking up to find your cart being sprayed with offensive logos means you'll have to stop business for a few days to find someone to remove the paint. A fire from cooking may damage your cart so severely that you'll need a replacement. In these situations, content insurance can pay for replacement or repair costs.