Freelance Writer Insurance
Professional liability insurance protects your freelance writing business. If you're sued while providing services, professional liability insurance can pay for legal fees and cost awards, even if you did nothing wrong. Get a quote and buy online in less than five minutes.
Get a Free Online Quote
4.6 rating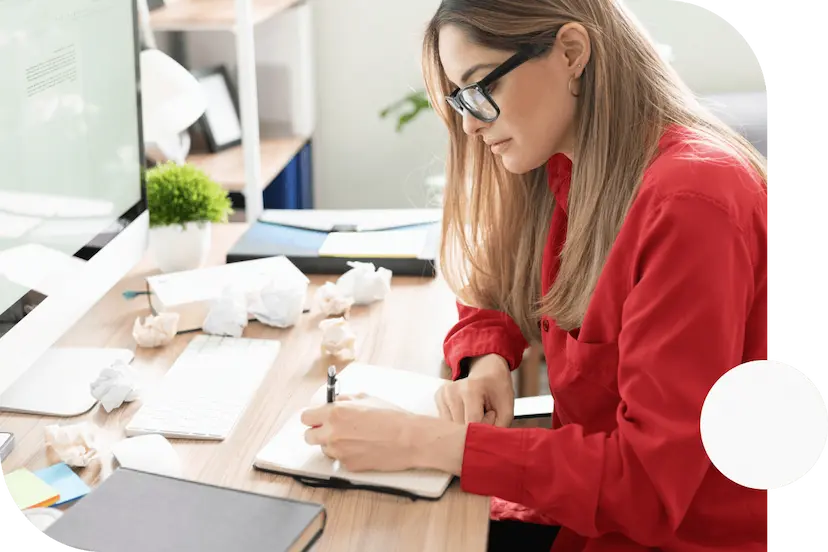 Get insurance in three easy steps
1
Find and select the coverage you need.
2
Choose the payment plan that suits you best.
3
Get your policy documents in an email instantly.
Writers are entrusted with a company's communication
As a freelance writer, businesses and publications entrust you to be the voice of their organization. It's your responsibility to develop copy and articles that engage and inform audiences and encourage them to take specific actions. However, there are opportunities for things to go wrong during the writing process. APOLLO Insurance understands that unfortunate circumstances occur. We can help you feel secure in your business by providing customized insurance plans that offer peace of mind and security.
Writing doesn't involve sensitive information, dangerous chemicals, or sharp saws and drills. But there remain inherent risks to freelance writers when you provide your services. Suppose you need to prepare landing page copies for the launch of a new product. If you fail to meet your client's deadline, it may force them to delay their product launch. You could then be on the hook for any financial losses resulting from this delay. Professional liability insurance means you don't have to worry about the costs of a potential lawsuit in such a situation.
Your career as a freelance writer might not seem like the riskiest job in the world, but there are still opportunities for a lawsuit to land on your desk. The right insurance policies help you remain financially secure through hard times and mitigates your profession's risks.
Professional Liability Insurance
Professional liability insurance for freelance writers, also known as errors and omissions insurance, can cover costs when a client alleges you provided negligent services or if they claim there was a misrepresentation of services.
General Liability Insurance
General liability insurance for freelance writers protects you from day-to-day risks. If a client visits your office and injures themself or their property, you won't have to pay out-of-pocket for medical or replacement expenses. General liability insurance also covers lawsuit costs related to libel or slander.
Contents Insurance
Content insurance for freelance writers, otherwise known as commercial property insurance, covers the damage or loss of any tools or equipment you use to run your practice. If a fire wreaks havoc on your office, you can rest assured that replacing the contents won't be on your own dime if you have content insurance.
Commonly Asked Questions About Freelance Writer Insurance
Why do freelance writers need insurance?
Freelance writers collaborate with sophisticated businesses that expect a high standard of work. If you don't meet this standard, clients may fire you or expect financial compensation for any losses they suffered due to your services. Without the proper insurance, paying such monetary compensation can cause financial hardship to your practice.   Additionally, clients commonly expect freelance writers to sign indemnity clauses. Such a clause specifies that the writer must pay for legal fees and potential cost awards if the writer's work leads to a lawsuit. An indemnity clause ultimately widens your opportunity to be found liable for legal fees and cost awards. If you're caught in this scenario, a professional liability policy can reduce your stress by paying for such legal fees and any damages that result.   Having insurance increases the professionalism of your business. It tells clients that you've considered your business' risks and have taken steps to mitigate them. Thus, the right insurance policies make a great marketing asset because it proves to clients that writing is more than a hobby.
What risks do I have as a freelance writer?
Although you're an expert in your career, there's always the chance that something goes wrong. You may think you'll never miss a deadline. But what happens when you have a sudden migraine that leaves you unable to work? What if you're overwhelmed with deliverables and accidentally let one client's needs slip? If the client had a tight deadline, they could accuse you of negligence and sue for financial compensation. Without insurance, you may need to pay for an expensive settlement and legal fees yourself.
  Freelance writers take inspiration for their work from a variety of sources. But what if your inspiration results in a copyright infringement lawsuit? The original author doesn't need to prove you copied them for you to face high legal costs—all they need to do is make an allegation. Again, insurance coverage is here for these types of situations.
  Your writing may revolve around people. If they take offence to what you've written about them, they could hit you with a slander or libel lawsuit. These lawsuits can require specialized legal help that's even more expensive than regular lawyers. In such an instance, general liability insurance is critical to ensure you don't pay for hefty legal fees and a potential damage award out of your own pocket.