First Aid Insurance
Professional liability insurance is critical to both first aid responders and trainers. It protects your business if you're sued while performing your professional services. Professional liability insurance with APOLLO Insurance, get a quote and buy coverage online in under five minutes.
Get a Free Online Quote
4.6 rating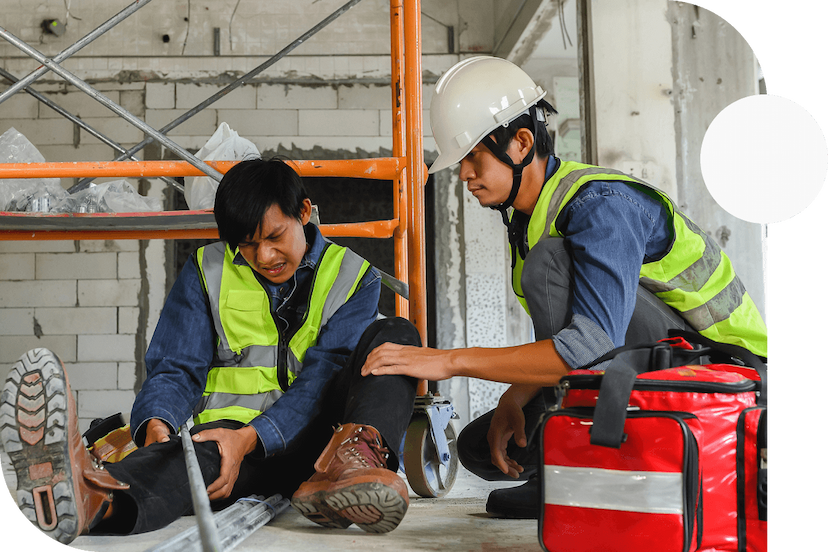 Get Insurance in 3 Easy Steps
1
Find and select the coverage you need with a quick and easy quote.
2
Choose a convenient payment plan that suits you best.
3
Get your policy documents in your inbox instantly.
First aid responders provide life-saving services
There are three kinds of insurance a first-aid responder needs
Whether you work at large events that need first aid response supervision or teach new responders the ropes, you need insurance to cover your practice against risks. On the job, you ensure a safe environment and recognize and respond to emergencies. Failure to correctly complete these tasks can result in a lawsuit. APOLLO Insurance offers customized small business insurance that fits your needs. Even if you have years of experience as a first-aid responder, the risk of lawsuits remains. Emergencies are often tough calls. Within seconds, you need to make quick decisions and balance numerous stakeholders. What may seem logical to you may seem negligent to someone who didn't see the situation from your eyes. As a result, they may sue because they felt you made the wrong choices during an emergency. Professional liability insurance is designed to absorb costs when you face a lawsuit like this. Don't tackle these tremendous expenses out of pocket. Insurance for first-aid responders is an intelligent business decision. You never know when you'll make a mistake or have someone perceive you made one. In such situations, it brings peace of mind that you won't be financially liable to any lawsuits that come your way. This allows you to secure the financial future of your business, personal assets, and career.
Professional Liability Insurance
Professional liability insurance for first-aid responders, also called errors and omissions insurance, responds to lawsuits by paying legal fees and settlement and court awards if you're sued for the provision of your services.
General Liability Insurance
General liability insurance for first-aid responders covers lawsuits due to bodily injuries and property damage. This policy usually applies to professionals with an office or premises but is also valuable to first-aid responders who may have third parties tripping and falling over their equipment.
Contents Insurance
Contents Insurance for first-aid responders covers the physical items your business owns. This includes medical equipment, computers, and teaching supplies if you also teach first aid. If these items are stolen or damaged, contents insurance can replace them with little-to-no cost to you.
Commonly Asked Questions About First Aid Practitioner Insurance
Why do first-aid responders need insurance?
First-aid responders have a vital job that differentiates between life-and-death situations. Your role comes with various risks in advising when there's an emergency and how to approach it. Such duties come with risks that require insurance.
  If you act as first aid at large events, event planners may request proof that you're insured. The fact you're insured reduces risks for the event planner, and they may not otherwise hire your business without a policy ready. Therefore, insurance is commonly mandatory for first-aid practitioners—not just an option.
  If someone is severely injured under your care, they may be unable to make an income due to their injuries. As a result, they may attempt to sue anyone and everyone to compensate for their losses. This includes yourself, who may have overlooked a potential injury or hazard. You can prevent new financial burdens by purchasing insurance. The right policy can pay for your incurred legal expenses and possible damage awards.
What types of risks does my small business face as a first-aid practitioner?
As a first-aid responder, you provide life-saving services and identify things that can go wrong. Some may accuse you performed your tasks negligently. Regardless of whether a loss or harm was your fault, it can be costly to defend against resulting legal proceedings.
  When you provide your services, you may need to layout equipment to help a person in need. If third parties don't notice, they may trip over your equipment and injure themselves. This is another risk for first-aid responders as you may be liable for such injuries. If you also teach first-aid, trips and slips in your classroom by students or third parties could result in injuries or property damage that you're also legally liable for. General liability insurance protects you in these situations.
  Depending on what first-aid services you provide, you may need expensive medical equipment. You may further need equipment for teaching first aid. If these tools are lost, stolen, or damaged, it may result in a sudden need to replace them—i.e., an unexpected expense. Contents insurance can reduce this financial risk by protecting your equipment and replacing it on a replacement-value basis.