Dog Groomers Insurance
Dog groomers provide an essential service to clients that keeps their companions feeling and looking good, but this doesn't come without risk. APOLLO Insurance is here to ensure you are financially protected in every situation.
Get a Free Online Quote
4.6 rating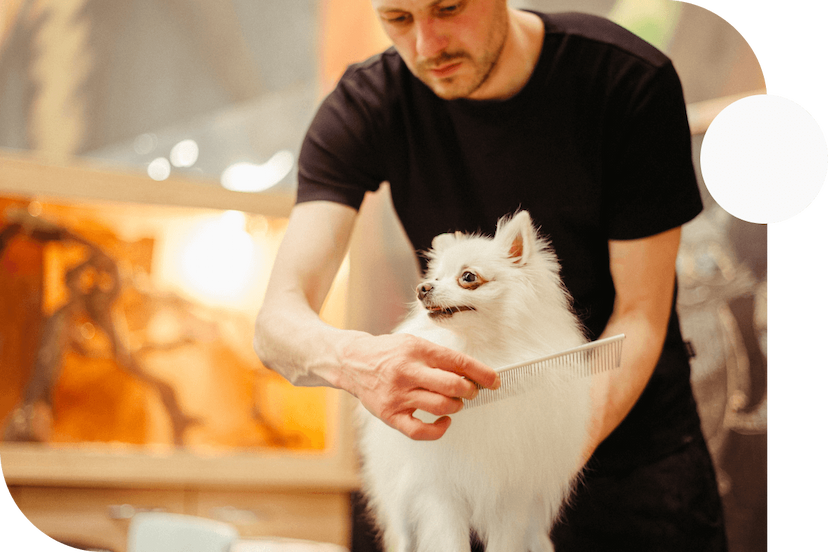 Get insurance in three easy steps
1
Find and select the coverage you need.
2
Choose the payment plan that suits you best.
3
Get your policy documents in an email instantly
Though dog groomers are certified and trained professionals, they still can make mistakes.
From fur trimming to nail cutting, regardless of your business service, you must obtain insurance. Similarly to working directly with people, you must also be aware of the inherent risks when dealing with pets one on one. Every animal is different, and because of this, there will always be risk exposure, but as the business owner, the consequences will fall on you. Whether you're facing a lawsuit, or an employee injures themselves on the job, you will be the person liable regardless of who's at fault. That is why we at APOLLO understand you'll need adequate protection in the form of a customizable insurance plan that will provide you coverage in any situation.
Your clients have sought after your services to care for their companions, and you are expected to deliver the results they want. Yet even though you're a trained professional in what you do, that does not guarantee you won't make a mistake. Whether you accidentally nick an animal while cutting it or don't live up to a client's expectations, APOLLO knows that you require the support of a strong insurance policy. Financial security is a necessity for any business, so protect yourself today with one of our customizable insurance plans.
The service you provide with your dog grooming business is undeniably valuable to clients and their furry friends, but you could suffer immensely without the proper coverage. To ensure this doesn't happen to you, obtain a customizable insurance plan today and automatically set yourself up with lasting financial security.
Professional Liability Insurance
Professional liability insurance, also known as errors and omissions insurance for dog groomers, responds to when lawsuits claim a business owner was providing unsatisfactory, negligent, or falsified services to a client or their pet.
General Liability Insurance
General liability insurance for dog groomers is the most basic form of coverage that absorbs any fees associated with accidents during day-to-day business operations. Typically, this policy is used against third-party claims of property damage or bodily injury.
Contents Insurance
Contents insurance for dog groomers covers any damages or losses that occur due to a covered peril. Possessing this kind of policy is especially important if the services they provide require an owned or leased workspace that stores any company-owned equipment, inventory, or furniture.
Commonly Asked Questions About Dog Groomers Insurance
Why do dog groomers need insurance?
Today, the services dog groomers provide are a necessity for dog owners. From hair cutting to teeth polishing services, their client's expectations are high, as they require their companion to be well cared for. Though it's the business' job to assist dogs, that doesn't guarantee they'll always be successful. That is why regardless of skill, there will always be risk associated with this sector, meaning there will always be a possibility of being held financially liable if an accident were to occur.   If a dog groomer were to own or rent their own space, then legally, they would be required to possess both professional liability insurance and general liability insurance. Though this obligation depends on one's residence, it is typically needed almost everywhere to be permitted to work legally. Additionally, the owner may also purchase these forms of insurance to ensure they will not be financially liable if a mistake or accident were to occur.   As a dog grooming business, it may be part of their service to provide their clients with professional advice regarding various cleaning products, techniques, or treatments that they can use. However, if a client felt their recommendations were inaccurate, harmful, or costly to them or their pet in any way, then the business owner may be vulnerable to a lawsuit. In this case, possessing a form of professional liability insurance would protect them from the legal fees needed to defend themselves against these claims, regardless of their accuracy.
What types of risks do I face as a dog groomer?
Though you may feel you are an expert at the services you provide, there is no way you can guarantee that everything will go according to plan. Dealing with people's pets, especially if untrained, can be challenging and sometimes unpredictable. Mistakes in these kinds of situations may be inevitable, and if they were to occur, you would be held liable. Without insurance, you may have to pay financial compensation or potential legal fees if your client escalates the situation to that extent. If either event were to occur, you would want the support of a solid insurance brokerage by your side to ensure you're financially covered no matter what.   If your dog grooming business has an office or leased space, you, your employees, and your client could be at risk. Whether an employee slips, trips and falls or your client's dog were to scratch and damage your floors, you may be liable regardless of circumstance. To avoid incurring any additional legal or medical expenses, your business must obtain a general liability policy to absorb these costs.   Though it is unlikely, there is still a chance that an unexpected event like vandalism or flooding can occur at your business location. The extreme damages and losses that can occur because of these incidents are costly, and if not paid promptly, you could potentially risk losing your business entirely. To prevent this from happening to you, seek out the support of a trusted insurance company, like APOLLO, that is willing to offer you safe, reliable, and affordable coverage.