How to attract amazing talent to your business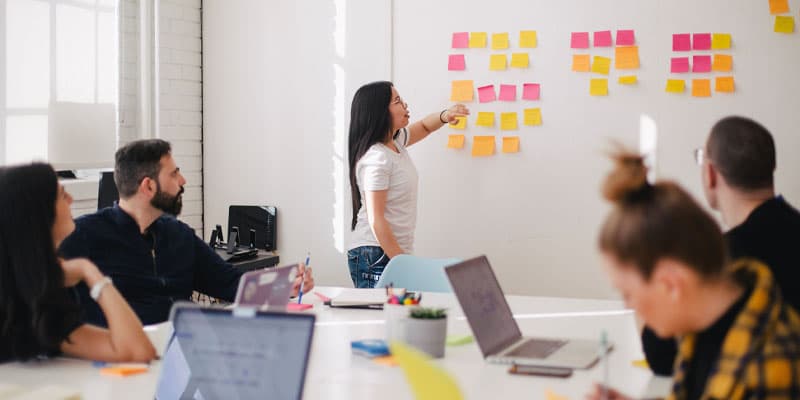 Hiring the right people for a small business is usually more challenging than hiring for a large organization with a well-established, bureaucratic process. Making bad choices can quickly become very expensive for small businesses, especially if they're working off of a shoe-string budget.
What does it look like when solopreneurs and founders are in the formative stages of defining the structure and culture of their business? These are two of the most common scenarios: If the founder is a perfectionist, they would want to hire someone who can do exactly what they do exactly the way they do it. Otherwise, business owners want to hire someone for a gamut of tasks so broad and specific that hiring an ideal candidate becomes nearly impossible.
Here's some helpful advice for small business owners to find the right balance between being flexible about who they want and determining what's important for the business.
1. Prioritize which skill your business CAN'T do without
It is common for small businesses to seek employees who can wear multiple hats at once. Let's say you're an e-commerce business looking for a marketing expert. In your mind, the ideal person will have experience working with CRMs, writing SEO-friendly content for emails, blogs, social media, running Facebook Ads, edit videos, manage Google Analytics, and design graphics. But your business may not be big enough to afford a person with expertise in all of these areas.
What should you do? Assess which skill is most important for your business, and which skill cannot be learned on the job. Suppose your analysis leads to the conclusion that writing is the skill that cannot be learned on the job. Then you can go ahead and hire a really good writer with working knowledge of CRMs, Facebook Ads, Google Analytics, and the rest.
Remember that one of the big reasons that people get excited about working at startups is because they want the freedom and adventure of trying something new. By structuring your job description around a strong, single skillset, you narrow down the talent pool and easily eliminate the people who wouldn't fit.
2. Emphasize the small
Without the bureaucracy of middle management, small businesses have the luxury of simplifying the decision making process and acting quickly on decisions made.
Showcase what employees will gain by working for your brand. What makes your company fresh and exciting? Does it facilitate aggressive career growth? Does the culture give employees the freedom to dabble in new technologies? Can they take on a more senior role or handle a project from end to end? Do you have a flat organizational structure? An open-door policy?
3. Are you paying below-market rates?
You cannot pay below-market rates and expect great commitment from your employees. How much you pay your employees goes a long way in showing how much you care about them.
Moreover, sites like Payscale, Glassdoor and Indeed have salary approximations for almost every imaginable job description, making it very easy for your employee to know exactly how much they're worth. If you cannot afford to pay high salaries, see if you can offer them other perks like incentives, a share in the profits or stock options.
Low pay can lead to high turnover or inconsistency in delivery and performance, both of which are very dangerous to a young company.
4. Find people from your network first
Before you outsource the hiring process to a third party, see if you can leverage your contacts to find the right people.
Do you have connections to NGOs, local communities or universities where you can post jobs? Have you considered connecting with people at industry networking events? Have you posted your job to your LinkedIn contacts? Have you offered referral bonuses to your existing employees?
5. Think outside the box
Your hiring process can be as unique and distinct as your business. What is the minimum viable hire that will support your business most effectively? For example, if the job doesn't require the employee to be present at a physical location, highlight the 'work from home' perk; you don't have to limit your search to the city—the nation is your oyster.
If your business is so nascent that you need people for distinct and specialized skillsets, think about whether freelance or part-time employees would work better and be more cost-effective than a single, full-time employee.
Limited time offer: Get comprehensive Tenant Insurance starting at just $11/month
Get no-nonsense coverage that's the best value for your money. Purchase in less than a minute, receive your policy instantly, and save when you buy online.
Get a free quote
4.6 rating

Limited time offer: Get comprehensive Tenant Insurance starting at just $11/month
Get no-nonsense coverage that's the best value for your money. Purchase in less than a minute, receive your policy instantly, and save when you buy online.
Get a free quote
4.6 rating

Getting insured is as easy as 1 - 2 - 3
1
Tell us (very little) about yourself
Just tell us your address, your name, email and phone number. And that's it. We'll give you a price in less than a minute.
2
Pay online easily and securely
You can choose to pay monthly or save money by paying for the entire year in one easy payment.
3
Get your documents in your inbox - instantly
As soon as you complete your purchase, you'll find your proof of insurance and policy documents waiting for you in your inbox.
Get covered today - it couldn't be easier
We've provided more than 1,000,000 quotes to Canadians just like you. Give it a try!

Reviews
4.6 rating
1,299 reviews
view all